Hi,
I will like to report on my horrendous experience with AirAsia on my recent flight booking with them.
I posted my story on HWZ and gathered some comments.
A check on facebook comments show i am not the only affected customer.
The following is my personal experience:
This is my personal experience with AirAsia and a warning to those who are planning to book Airasia flights. My case number is 110139184 in case any Airasia personnel is seeing this. I still need the refund and confirmed flight booking.
On 25th Aug, I booked a return flight to Bangkok that will depart on 30 Sep and return on 4th Oct. I booked the first time on the website and tried to perform payment. After going through credit card otp, I received an error message on Airasia. Needless to say, I thought the flight didn't go through. Hence, I tried booking the second time and it was successful with no error and I got a confirmed flight booking.
I thought everything went well until I realized on 27th Aug that there is a confirmed duplicate charge on my credit card. The first payment I made wasn't void.
I thought to myself it is no big deal as I can call in to get waiver on the first charge. Oh boy, I was so wrong. A search on Airasia website shows that there is no contact number nor email address available. The only way of contact is through a chatbot.
After filing a request for the refund of the first charge on 27th Aug, i received a reply that they cannot find the duplicate charge in their system. Hence, I proceeded to get DBS bank to provide the statement containing both charges with the authorisation codes for AirAsia's verification.
AirAsia replied on 6th Sep that the credit request was successful. However, upon checking, I realised that they refunded to their virtual credit account which only allows for booking of their flights, no withdrawal is possible. On top of that, I realised my single confirmed flight booking was cancelled by them.
They told me they have made a mistake and they will proceed to reinstate the booking under a new distinct booking number. They will also make a request to refund the credits on my virtual AirAsia credit account back to my credit card.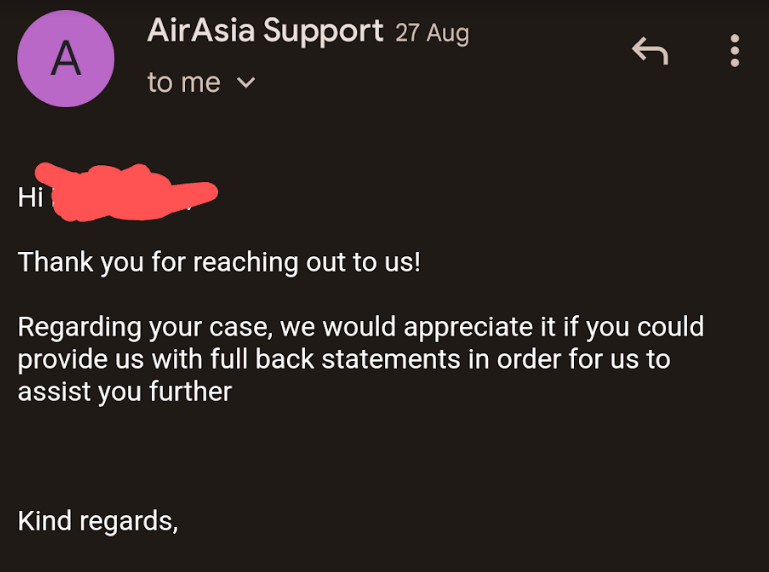 Since 6th Sep, I have been checking with their chatbot agent almost every day on the status of the duplicate charge refund and the status of my flight reinstatement. They will give me the same reply everytime that the case has been placed on high priority and I should wait patiently.
It is 21th Sep today. 2 weeks on and I have not received my duplicate charge refund back to my credit card. On top of that, I don't have any confirmed flight booking.
I am at wit's end what to do. My flight is next week and I still don't have a confirmed booking. Any tips on what I should do? A check on AirAsia facebook page shows that I am not the only victim.
TDLR:
What happened – I booked an Airasia flight and my credit card was charged twice for a total of 1k+ due to a bug in their booking system.
What I requested them to do – refund the duplicate charge back to my credit card
What they did –
1. Cancelled my confirmed flight and provided with me 500+ virtual credits which can only be used to book their flights
2. When I requested for reinstatement of the flight, I was given convoluted explanations on why there are delays for over 3 weeks
3. Lousy non-existent support only through chatbot – no phone number contact is available
Result after 3 weeks of chatbot –
1. I spent over 1k+ dollars to attempt to book the flight due to duplicate fees when the original flight only costs 500+
2. I don't have any flight booking because they cancelled the flight
3. I was given only 500+ virtual credits
Regards,
Unhappy AirAsia customer