A photo of an audience member crying while singing the National Anthem at the National Day Parade last night, took the internet by storm and went supremely viral.
The man, 41-year-old Azuan Tan, who is a teacher at Bedok View Secondary School, was caught on camera being overcome with his emotions during the live broadcast, according to The Straits Times.
Deputy Prime Minister Lawrence Wong shared a photo of Tan crying on his Facebook, calling it one of the iconic images of this year's NDP.
Wong described the photo: "This is turning out to be one of the iconic images of #NDP2022. It has been a challenging 2+ years – and for many of us,…"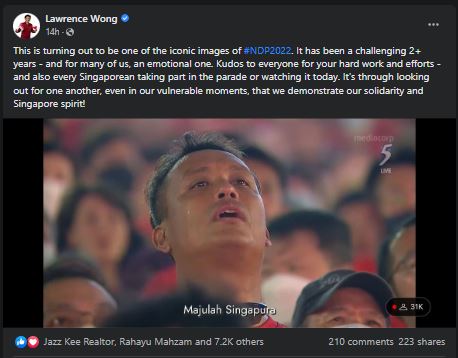 Local meme pages Yeolo and SGAG also shared the photo of Tan crying, with many netizens lauding his spirit and love for the country.
Speaking to The Straits Times, Tan said that he felt the entire parade was very well put together and told an extremely touching narrative, and "it really hit home".
He added that he has a lot of respect for everyone who contributed during the pandemic" and that his outpouring of emotion was his "thank you" to everybody.
He also added that he was at the parade with his wife and 3 kids, and they didn't know he was crying until they saw his photo online.
Image source: Screengrab from NDPeeps live stream of the NDP