The Police will be charging a 42-year-old man for an offence of possession of offensive weapon in a public place.
On 9 January 2023 at 7.36am, the Police received a call for assistance for an incident where a man was allegedly holding a knife in the vicinity of Blk 108 Yishun Ring Road. Responding officers spotted the man holding onto a 60-year-old woman with the knife in his right hand, held against her neck. They were both moving towards Blk 110 Yishun Ring Road.
Ground Response Force officers and officers from the Emergency Response Team of Woodlands Police Division responded to the incident. After an initial engagement where the man continued to hold the woman at knifepoint, Police officers managed to disarm him and place him under arrest, bringing the woman to safety.
The woman suffered an abrasion to her right chin as a result of the incident. The knife was eventually seized from the man's possession.
The man will be charged in court on 10 January 2023 for the offence of possession of offensive weapon under Section 6(1) of the Corrosive and Explosive Substances and Offensive Weapons Act 1958. The offence carries an imprisonment term of up to three years and caning of not less than six strokes.
The Police will seek to remand him at the Institute of Mental Health for psychiatric evaluation. Investigations are ongoing into suspected drug-related offences. Preliminary investigations by the Central Narcotics Bureau revealed that the man's urine tested positive for controlled drugs. Further charges may be tendered subsequently upon completion of investigations.
Assistant Commissioner of Police (AC) Ang Eng Seng, Commander of Woodlands Police Division, said: "The subject involved in this incident posed a grave danger to the public, and demonstrated a blatant disregard for the law. Police officers from Woodlands Division responded quickly, and their decisive action led to a swift and resolute outcome. The subject was placed under arrest to prevent any further harm from being caused."
The Police have zero tolerance towards acts of violence that threaten the safety of the general public. Offenders will be dealt with firmly in accordance with the law.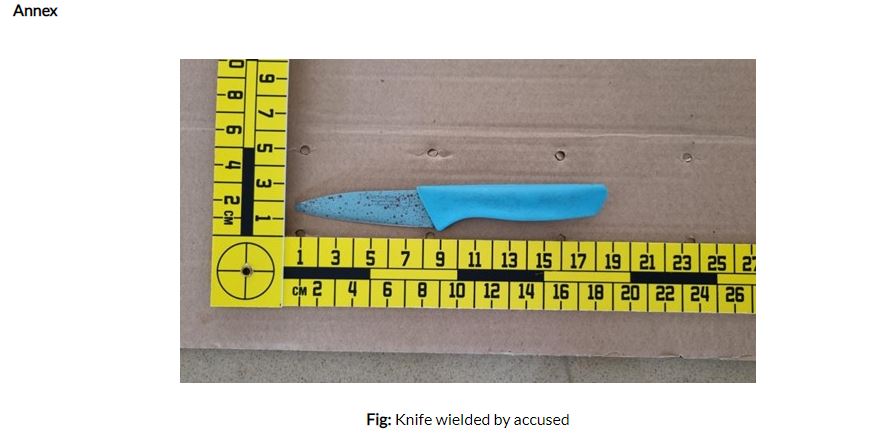 Recap