Facebook user Sancho Henderson, shared how he received a Prism+ television worth $1k as a gift less than a year ago, and now it has broken down.
Here is what he said
Aiyo PRISM TV….. Bought less than 1 year ago, now like that. This was a gift to me, I had the option to choose any brands, but I thought of supporting local.
One thousand plus dollars, I could've easily gotten similar features but other brands. Now the TV treat me like this.
I also heard Prism is notorious for not giving a brand new replacement TV, they will just repair, change some parts and give customer back and say "problem solved", which may be true, but they probably extended the TV's life for another 1 more year only.
Very sien now. Why la Prism, why? Put so much faith in you, Singapore brand somemore leh.
Update: Well, all my negative thoughts are not warranted! PRISM says they will replace a brand new unit because they have assessed it to be a one off issue with the display.
Quite good la actually PRISM. This brand just changed my perspective of "cheap no good, good no cheap" according to many comments below (eventhough it is not exactly that cheap).
Not bad ah this Singapore brand and quite good customer service  Cheers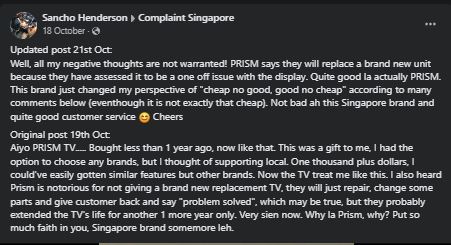 FULL VIDEO LOADING…