Singaporeans and tourists flock to Maxwell Food Centre for its culinary delights, making it a hotspot for food enthusiasts. The recent surge in bids for stalls, particularly a drinks stall at #01-012, has raised eyebrows and curiosity.
Highest ever rental for a drinks stall
In an unexpected turn of events, Loh Jwee Hua secured the #01-012 spot with a staggering bid of S$6,111, marking a new record for the highest-ever rental for a drinks stall at Maxwell Food Centre.
The National Environment Agency (NEA) released a list of successful hawker stall bidders, revealing that the competition was fierce. At least four other bidders submitted substantial amounts, with bids ranging from S$3,268 to S$4,800, reflecting the intense interest in this particular spot.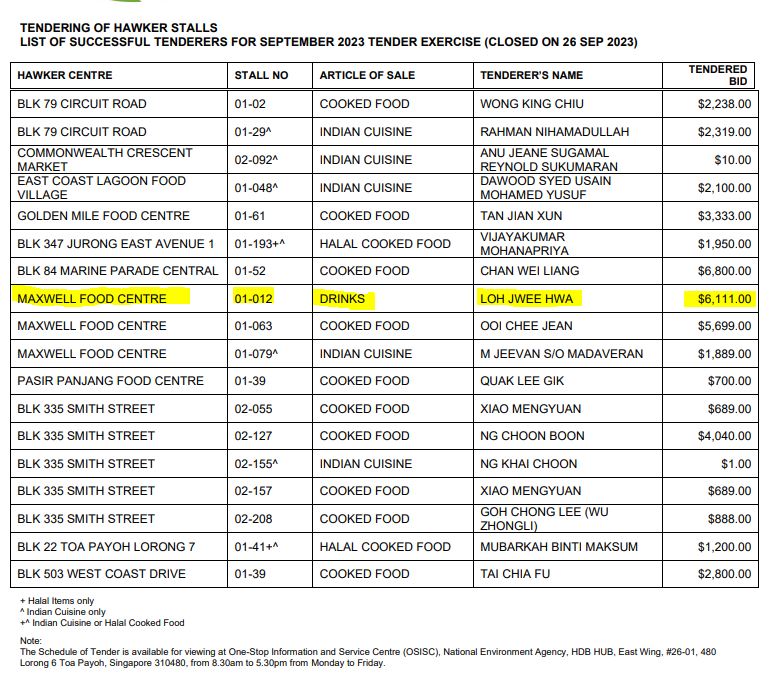 Location Matters
#01-012's adjacency to the renowned Tian Tian Hainanese Chicken Rice stall at #01-010 and #01-011 has contributed to the high bidding fervor.
The strategic location promises heavy traffic, with patrons likely to grab a drink after indulging in Tian Tian's food.
Historical Perspective
Shin Min Daily News highlighted that the winning bid of S$6,111 sets a new standard for rentals at Maxwell Food Centre, surpassing records since March 2012. This surge in bids underscores the evolving dynamics of the hawker scene in Singapore.
With already 14 drinks stalls in Maxwell Food Centre, the competition is cutthroat. An anonymous drinks stall owner acknowledged the need for innovation to stand out. The high rental cost, now 20 times more than that of first-generation stallholders, adds to the challenges.
Calculating the Break-even Point
The exorbitant rental, coupled with additional expenses like table cleaning fees and utility bills, raises concerns among vendors. To break even, the new stall would have to sell an estimated 500 cups a day, according to a seasoned drinks stall owner.
Drawing a poignant parallel, the former proprietors of a minced pies stall at Circuit Road Hawker Centre resonate with the challenges faced by today's hawkers. The drastic shift in rental costs reflects the evolving landscape of Singapore's hawker culture.