Recently, McDonald's Singapore announced that they will be having a new promotion in all outlets across Singapore via the McDonald's app.
The ongoing promotion is for the Double Cheeseburger, which McDonald will be offering a 1-for-1 deal, from the date of writing till 18 August 2022.
Redeemable from McDonald's app
The promotion is redeemable islandwide, as long as it is from the McDonald's app.
The usual price for a Double Cheeseburger is at SGD 3.90, which effectively means that with this deal, you would be paying only $1.95 for each burger.
This promotion is available at any time of the day, from 12pm until 11.59pm.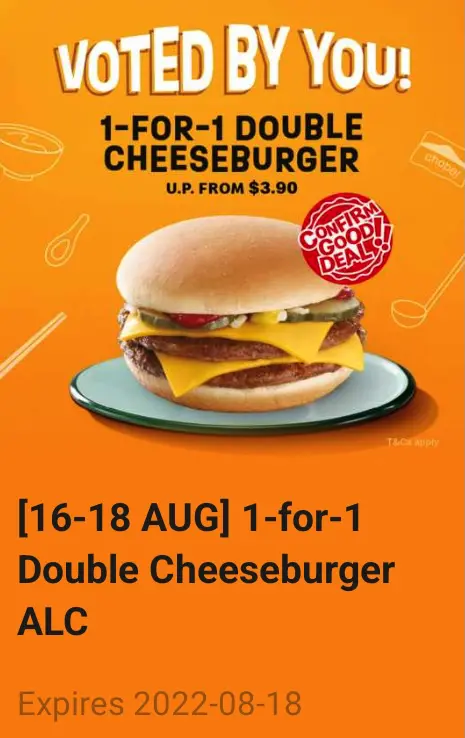 Other available promotions
Other promotions which McDonald's have came up with includes:
1-for-1 Hotcakes (Breakfast hours from 15 – 17 Aug)
1-for-1 Chicken McCrispy Meal (Friday only)
$7 Big Mac Meal (Tue & Wed from 11am – 3pm only)
$1 Iced MILO with any purchase (3pm – 5pm)
$2 for 2 x Choco Cones (3pm – 5pm)
Image source: McDonald's Singapore, Google Maps