An image of a Mercedes was seen on Facebook with a carton box on top if it as well as a ticket from the authorities.
The image was accompanied by a caption which says that the incident happened at Blk 981 Buangkok Crescent yesterday 22-03-2023 where the Mercedes was parking on motorcycle lots.
This led to the Mercedes driver receiving a ticket for his or her actions and a carton box was also seen placed on top of the vehicle, allegedly left by someone who is unhappy with the actions of the Mercedes driver.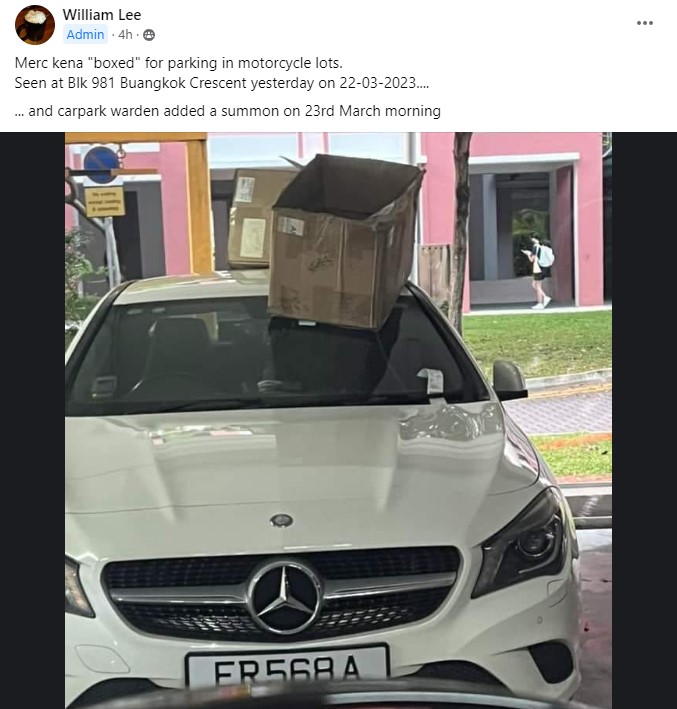 Reporting of illegal parking
You can now report illegal parking should you see any in HDB Carparks or service roads via the OneServiceApp. Parking wardens will be activated to see to the matter immediately.
Here are what netizens think
He choose convenient over summon!

Fines is cheapo to them. Should have placed the bin on roof

Box only next time put green garbage bin with rubbish inside

Next time pour urine

what is $100 to him ? $0.10??? and why do you people have so many suggestion? are you all sick?

these drivers are some of the people that keep our reserve full of money.

The carplate shows its an old plate ER, these types usually quite rich people. 568 means got road huat.

Guy probably more pissed at the box than the summon..

U think the driver care about the summons when he is driving a Mercedes ?
Image source: William Lee/Facebook