A group of migrant workers banded together to save the life of a girl who was trapped under a car following an accident in Yishun, by lifting up the vehicle and pulling the girl to safety.
According to The Straits Times yesterday (4 March); the mother of the girl, 41-year-old Lim Xiaoli, recalled the horrifying experience which took place in November last year, saying that her family was walking home from Junction 9 after having lunch.
They had left the mall separately and Lim was making her way back when she saw an accident that involved 2 cars, a motorcycle and 2 pedestrians at a carpark.
The woman then saw her elder sister, who was carrying her 4-month-old baby, shouting at her to get her attention, before she rushed over and realised that the victims of the accident were her 64-year-old mother and her 15-year-old daughter.
Her elderly mother had suffered an injury to her head but was conscious, while her daughter had just been rescued from under one of the cars.
She was told that her daughter was trapped under the car and might have died.
Her mother was sent to Khoo Teck Puat Hospital while her daughter was sent to KK Women's and Children's Hospital, where they have since recovered – although her mother is still feeling pain in her limbs.
At the time of writing, police investigations into the incident are still ongoing.
ST reported that Lim is still in the midst of seeking compensation from the driver, a 31-year-old pregnant woman.
Migrant workers who saved the girl identified
Lim went to Nee Soon GRC MP Louis Ng for help to look for the workers who saved her daughter's life – they had lifted the car to free the trapped girl.
They later managed to meet 4 of the heroes; Mr Md Abuhaiat Nurnobi, Mr Miah Eadhu, Mr Alam Jahangir and Mr Molla Mohammad Sayem, and they thanked them personally.
Two other workers, Mr Belal Md Shababuddin and Mr Khobir, didn't come down for the meet but each received a gift to thank them.
Bangladeshi migrant worker Nurnobi, who has been working in Singapore for about 5 years, said that they were performing some horticulture maintenance at the carpark when they witnessed the accident.
He said that a car was driving very fast at the time and crashed into 2 people, resulting in a lot of blood with one of the victims being stuck under the car.
He added that they didn't think too much and hurried over to lift up the car to rescue the girl, because they were afraid she might die.
MP Louis Ng's Facebook post
[ Our very kind migrant workers ]
Xiaoli's daughter and mother were hit by a car and her daughter was trapped under the car.
Our migrant workers who were nearby immediately rushed over to help and lifted the car and rescued her daughter
Thankfully, they have both recovered well.
Xiaoli wanted to thank our migrant workers personally. I'm so glad we manage to meet them over the weekend.
Thank you, Belal, Nurnobi, Eadhu Miah, Jahangir Alam, Khobir and Sayem for helping and caring so much.
And thank you for helping to make Singapore a shining red dot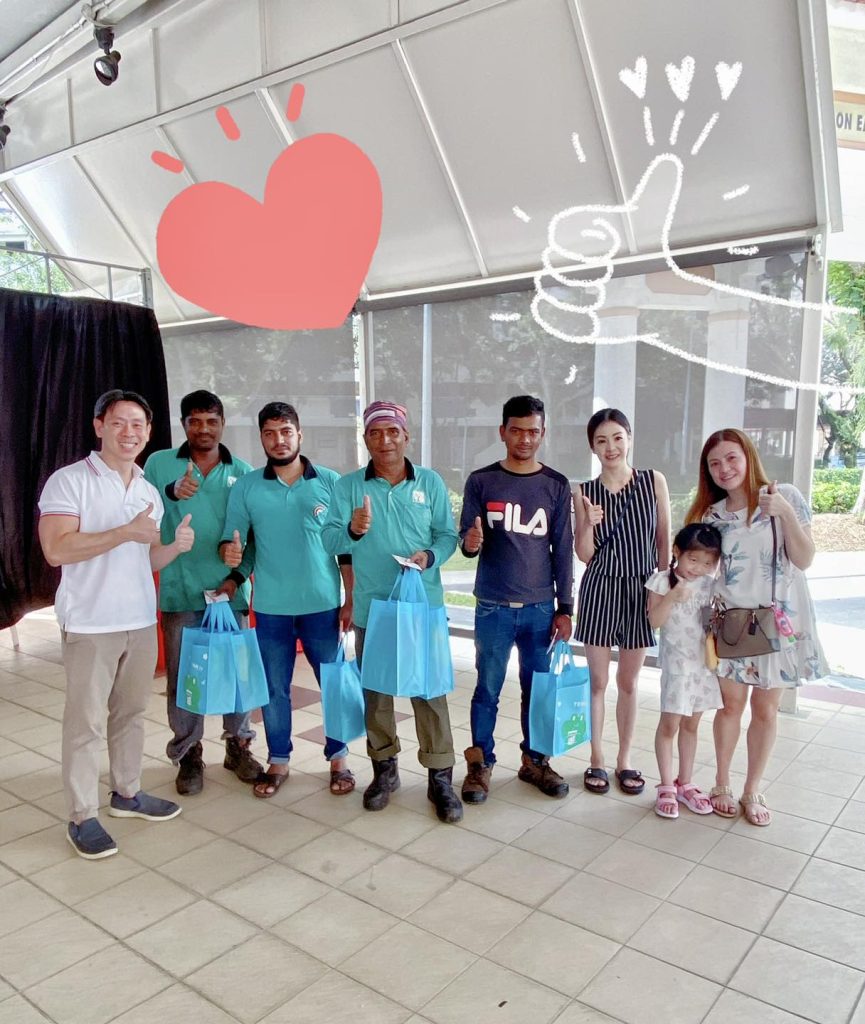 FULL VIDEO LOADING…