The Ministry of Defence Singapore (MINDEF) has recently posted a statement on their Facebook page informing the public about a military exercise which the Singapore Armed Forces(SAF) will be conducting in the Star Vista area.
The military exercise will be held from Monday, 7 February 2022 at 9pm to Tuesday, 8 February 2022 at 5am.
MINDEF also wants to remind the public to steer away from the area during the above timings and also not to be alarmed about the happenings during the exercise.
In the upcoming military exercise, the SAF will be using low-flying aircraft, which will impact the carrying out of aerial activities in the area during the time frame of the military exercise.
As such, there will be a Temporary Restricted Area (TRA) which MINDEF will and have already set up to restrict aerial activities in the area from Monday, 7 February 2022, 9pm to Tuesday, 8 February 2022, 1am.
This means that aerial activities are not allowed to be carried out at all times in the TRA during the period of time stated above.
Such activities include:
Kite-flying
Hoisting of captive balloon
Flying unmanned aircrafts such as drones
The public can find out more from MINDEF's website listed here.
Here is the post by MINDEF
"The SAF will conduct a military exercise involving ground and aerial elements, which include low-flying aircraft, at The Star Vista from Mon 7 Feb 9pm to Tue 8 Feb 5am. The public is advised to keep clear of the area, and not to be alarmed.
A Temporary Restricted Area (TRA) for aerial activities will be established as shown from Mon 7 Feb 9pm to Tue 8 Feb 1am. Aerial activities such as kite-flying, hoisting of captive balloons and flying unmanned aircraft such as drones will not be allowed within the TRA."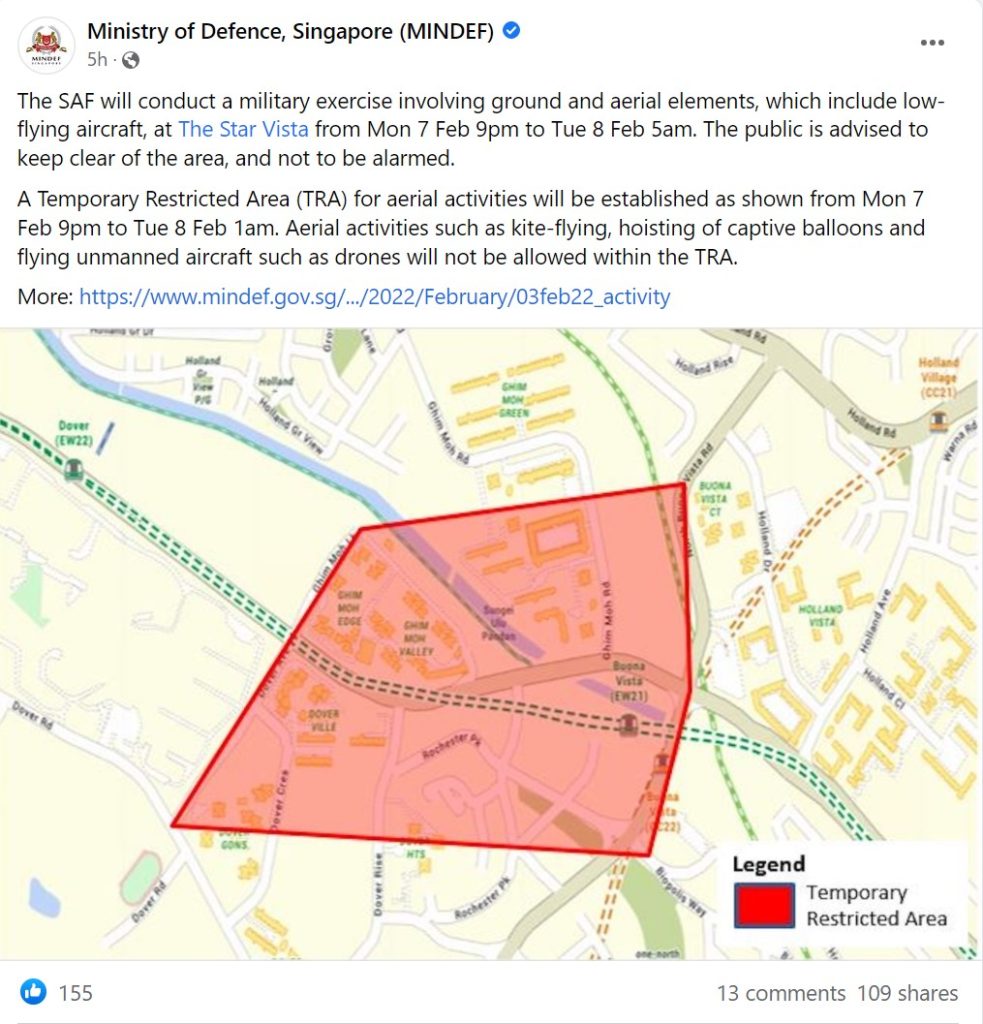 Image source: MINDEF/Facebook