A 15-year-old girl in Singapore, Xie Yun Ying Chloe, was reported missing earlier today (26 April) and was last seen in the vicinity of Ang Mo Kio Avenue 6.
The girl had purportedly run away from the MSF Home at Metta Road on 25 April yesterday.
According to a netizen who posted the missing person appeal on behalf of the girl's mother, a police report has also been lodged for both the parents and the home.
The netizen added that the boyfriend of the missing girl, a 15-year-old boy, allegedly claimed to be a gang member and had asked people to assault the girl's mother.
The Singapore Police Force also issued an appeal for information on Chloe's current whereabouts.
Here is the netizens' post
𝗠𝗶𝘀𝘀𝗶𝗻𝗴 𝗣𝗲𝗿𝘀𝗼𝗻
(Posting on behalf of a worried Mom)
NAME: Chloe Xie
AGE: 15 (Secondary 3)
LAST SEEN: MSF Home (Metta Road) runaway on 25/04/2023.
Police Report have been made for both parents and MSF Home. Boyfriend "Glenn" oso 15yo claim he is from a gang and will ask people to whack the mother.
Uniformed police went up to the unit at 895A Woodland Drive 50 but believes that there is cctv hence nobody open the door.
Please help to share around and find this minor.
Anyone with information can call the police hotline at 1800 255 0000 or https://www.police.gov.sg/iwitness
Thank You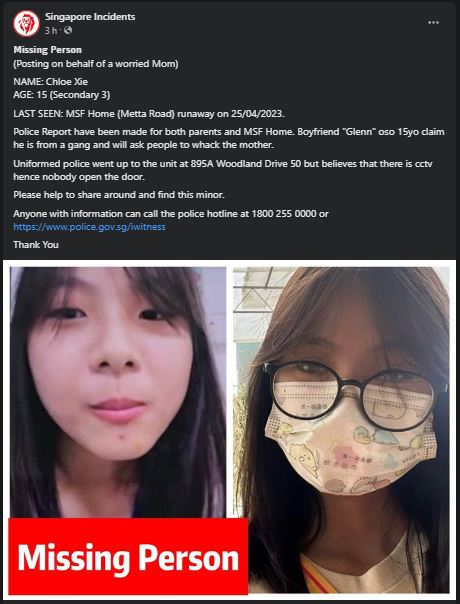 Singapore Police Force's appeal for information
APPEAL FOR INFORMATION – MS XIE YUN YING CHLOE
The Police are appealing for information on the whereabouts of 15-year-old Ms Xie Yun Ying Chloe who was last seen in the vicinity of Ang Mo Kio Avenue 6 on 26 April 2023.
Anyone with information is requested to call the Police Hotline at 1800-255-0000 or submit information online at www.police.gov.sg/iWitness. All information will be kept strictly confidential.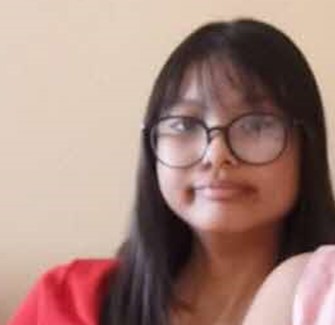 PUBLIC AFFAIRS DEPARTMENT
SINGAPORE POLICE FORCE
26 April 2023 @ 10:07 AM