A 43-year-old foreign worker, Mr Zakir Hossain Khokan, left Singapore after the expiry of his work permit and it was not renewed.
He alleged in a Facebook post that his former employer told him that the work permit renewal system had shown that he (Zakir) had an "adverse record with a government agency".
Zakir was later told that it was an administrative error and that his work permit was not eligible for renewal.
The Ministry of Manpower (MOM) responded to the episode and said that they take various factors into account when assessing if an applicant is suitable to work in Singapore, and also for the renewal of work passes, according to The Straits Times.
Renewed his work pass many times despite his activism
They said that "Through his time in Singapore, he has written often about migrant workers here. We renewed his work pass many times despite his activism and writings."
"We draw the line, however, when public posts are misleading, false or deliberately provocative."
They cited Zakir's Facebook post last October, with the police responding to a call for help following a confrontation at the Westlite Jalan Tukang Dormitory between the workers and management over the perceived low quality of food and long delays in transporting workers infected with Covid to healthcare facilities.
Called migrant workers work slaves
He had called migrant workers in Singapore "work slaves" and described the dormitories as "work camps".
He also alleged that soldiers and armoured vehicles were surrounding the dormitory.
MHA said back then that the Special Operations Command officers were on standby, but additional police units were not deployed and no arrested were made.
MOM said that it was a "false characterisation" and that "there were no soldiers, let alone around vehicles around".
MOM also noted that he signed off his post as being from the "workers of Westlite Tukang" even though he never lived there.
They said that his post could've incited the migrant workers at the dormitory and caused incidents of public disorder.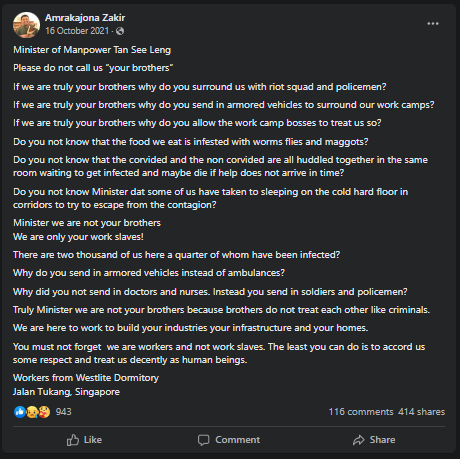 Ability of foreigners to work in Singapore is not an entitlement
The ministry added that Zakir had appealed against his work permit's non-renewal but his employer did not, and the appeal was considered and they then told him that it was not successful.
They added that "The ability of a foreigner to work in Singapore is not an entitlement. Mr Zakir has been permitted to work in Singapore for a long time, though he was a long-time activist.
"His work pass has since expired. He cannot prolong his stay when he no longer has a job in Singapore. He has overstayed his welcome."
Zakir's response to his Work Permit's non-renewal