A netizen going by the alias of Kim Yian Goh recently shared a video on the Complaint Singapore Facebook page about a motorcyclist riding his bike on a footpath while showing off some motorcycle stuns.
According to the netizen, the video was taken at Bulim Avenue at around 8:20am today (7 Feb), near a construction dormitory.
Footage shows that the motorcyclist was doing all his bike stuns on a footpath on a seemingly quiet and deserted area.
The motorcyclist can be seen on the bike and lifting it up while letting it move forward on one wheel.
Here is the netizen's post
"Good training in Bulim Ave near construction dormitory 07/02/23 8:20am"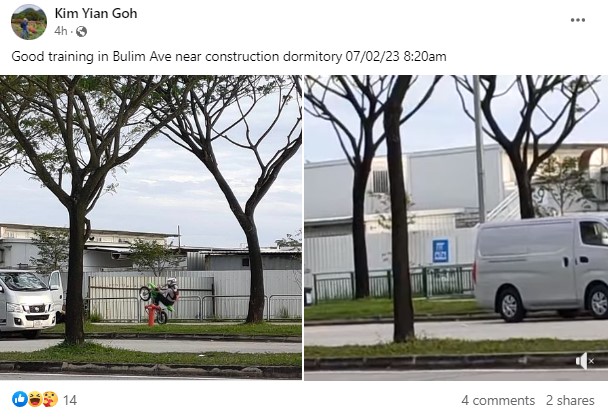 Full video loading
Netizens comments
I didn't know it's happening here too oh dear, boy please be careful. Hopefully no one walk by during This stunt
He's kind enough to go ulu places where no cars and people were present enough. Just leave him alone.
If possible, TP to survey morning around 8:10am – 8:40am
Good training. Keep it up, you may be the next Olympian!
Wah not bad leh
He do on footpath probably because don't dare to do on the road, but at the same time he is disregarding the safety of passerbys sia
Maybe he providing some entertainment and free show for the construction dormitory people only leh
Image source: Google Maps, Kim Yian Goh/Facebook
Video source: Kim Yian Goh/Facebook