It is not possible to answer this question as Food Panda does not publicly disclose salary information for its employees. Each employee's salary is based on various factors, such as demand and the number amount of jobs completed.
However, a Malaysian man working in Singapore shared his earnings, earning a whopping $432 a day on Food Panda delivery!
"Two Days' Income of a Food Delivery Driver"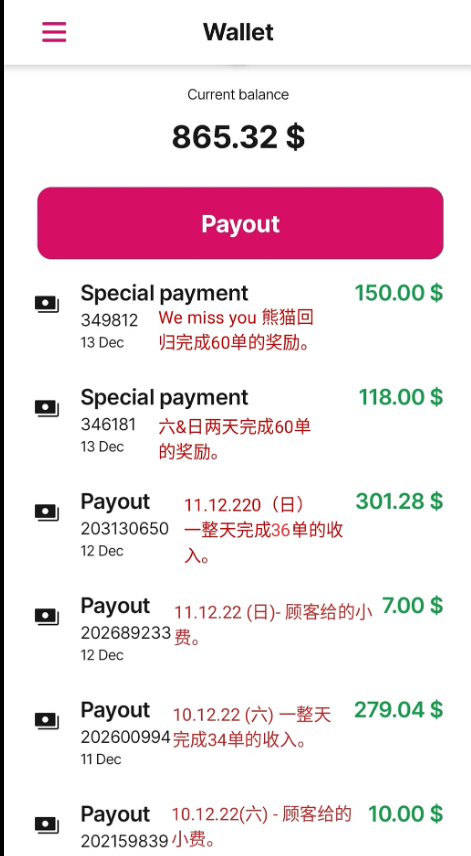 Many friends were curious and asked me how much the driver earns.
Today I will be transparent and open to share with you.
The income for two days is $865.32 (RM 2800),An average of $432.50 (RM 1400) per day.
The job of a food delivery boy is often seen as a menial job, so many people are reluctant to try it.
In fact, food delivery is also a down-to-earth job, not cheating, stealing, stealing, or smuggling, and it is a legitimate income in exchange for hard work.
If you are unemployed and have no income, and your regular income is not enough, food delivery is a part-time job that can fill your stomach or increase your extra income.
Additional conditions:
1) Driving a car in Singapore
2) Singapore citizens or permanent residents(If you don't have a Singaporean car, you can also deliver food by bicycle or on foot. Relatively speaking, the income cannot be compared with that of driving.)
Here are what netizens think:
Singapore car oil is also ridiculously expensive, unless you come to Jb to get oil
hey, let's change careers
others thought it was easy to do, but they didn't know that they had to do it on rainy and hot days. Occasionally, some Sohai people hit their bicycles and drove away immediately, and those who were far away on motorcycles had to push their bicycles back. They didn't know. How much KM and how much physical strength is exchanged for the hard-earned money
Let's go to Singapore to deliver food
delivers food, what are you waiting for?