A Malaysian motorcyclist was purportedly killed during an accident that took place near the Tuas Checkpoint on 25 August at about 8pm.
Photos of the accident were shared online by Facebook page Singapore Roads Accident, with a huge group of people wearing motorcycle helmets seen gathering around the victim.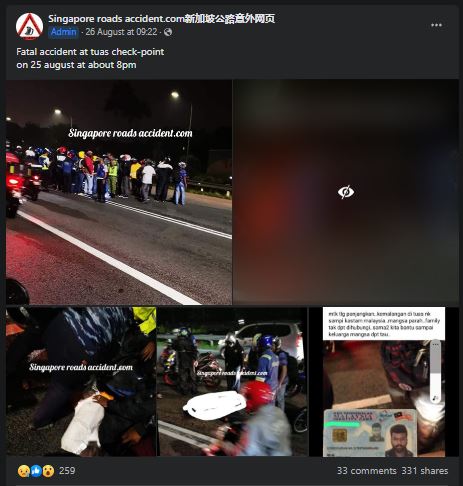 It is presently unknown how or where exactly the accident happened, as the information provided by the Facebook page is scarce.
The victim was seen lying down motionless on the road, while being surrounded by motorists.
The victim's identity card was also shared in the photos, along with a caption claiming that he had suffered severe injuries from the accident.
The Facebook post by Singapore Roads Accident, however, claims that the man had passed away.
An obituary of a man whose name matches the identity card, was seen on the Facebook group Malaysia-Singapore Border Crossers (MSBC), confirming that the victim had died.
Funeral proceedings for the deceased were commenced on 27 August in Johor Bahru, and he was cremated at about 1.30pm.
A netizen who is purportedly a friend of the victim's family, shared a post in the same Facebook group appealing for dashcam footage of the accident.
Those with information can contact the netizen here.