A netizen has taken to social media to complain about her experience during a recent trip to McDonald's at Seletar Mall for a meal.
According to the netizen, she ordered a Prosperity Chicken burger from the outlet to consume only to find a dirty used napkin inside the box which contained the burger.
She also tried to put words in the management's mouth saying that 'if the management thinks that a customer can put the dirty napkin then frame them, then it is disappointing to think that the customer has nothing better to do than do this.'
The prosperity burger series which consists of the prosperity chicken burger as well as the prosperity beef burger is placed in the menu by McDonald's during the festive Chinese New Year period yearly in Singapore.
The netizen then laments that seeing the used napkin in the burger, what kind of prosperity could she still have?
As of the time of writing, McDonald's should have not been alerted to this allegation yet as there has not been any response yet.
Here is the netizen's post
"Macdonald Seletar Mall branch, very disappointing to find a used napkin in your prosperity chicken burger.
If the Mgt thinks the used napkin is something your customer puts, then double disappointment to think your customer is so 'bo leow' to do it.
What prosperity can one have to chance upon a used napkin?
Heng Ong Huat ah!"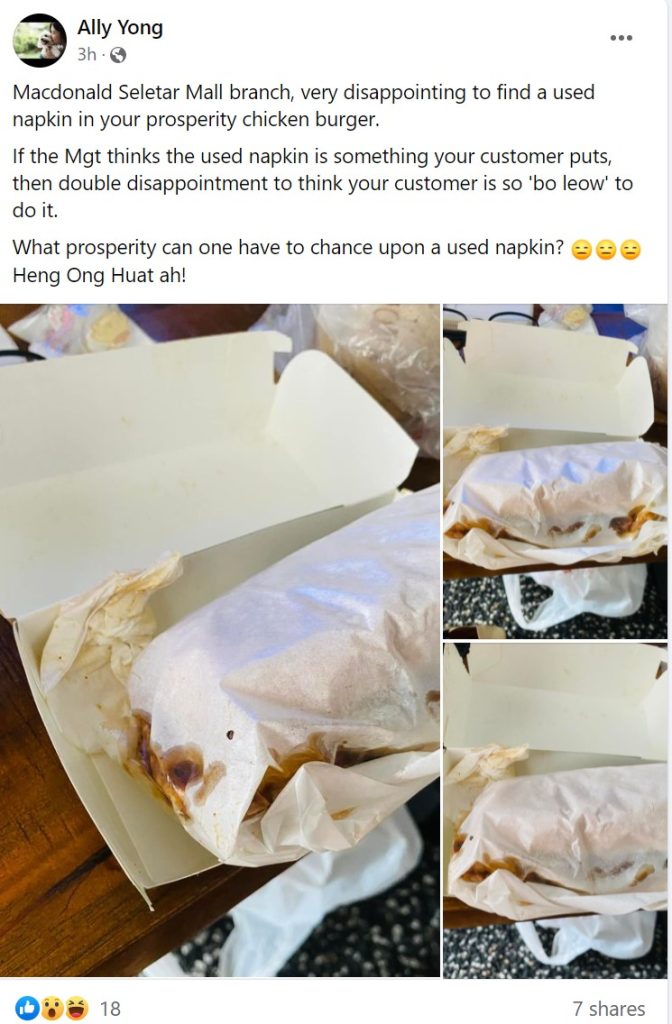 Image source: Ally Yong/Facebook