Facebook user James Ng shared a photo of a HDB block at Block 233 Sumang Lane, saying that it looks like a haunted HDB due to the unkempt facade.
This comes in the wake of another netizen previously sharing about a mouldy HDB building in Sengkang that also looked haunted.
Ng said in his Facebook post:
"Stood at one point inside carpark of Blk 233 SUMANG LANE PUNGGOL WEST MSCP. Took few photos of the moulds walls which I can see from here. The estate here is just 6years old. What went wrong the paint HDB contractors are using?
Another soon to be haunted HDB."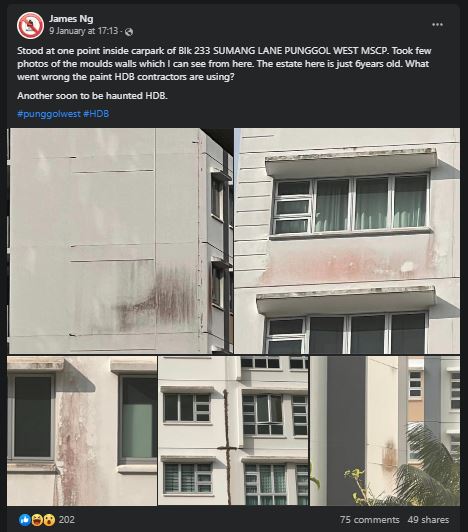 MP Sun Xueling responds
Tender for Matilda Court R&R happening this year. Was in the workplan already. Thanks

HDB Responds
HDB also responded, telling Mothership that they are aware of the moult at the building, and are looking into it.
They said that they used one coat of water-based sealer and 2 coats of algae-resistant emulsion paint on the building and that a 6-year warranty period for external painting is given to the town councils when the blocks are handed over to the town councils for management and maintenance.
They added that the warranty covers defences such as the paint peeling off, discolouration, growth of algae and etcetera.
During the period, the contractor of the building and the paint specialist are also required to fix any defects that are found.
Similar