A netizen going by the alias of Crystal Teo recently posted on Facebook to share a situation which said happened to her sister.
In her post, she warned about an alleged potential scammer in the Yew Tee MRT area who had approached her sister to ask for directions towards Pasir Ris and Queenstown.
Her sister felt harassed by the man who was dresses in formal attire around the age of 20-30 and therefore did a Paynow of $20 to him.
She said that the man still had the cheek to say that $20 is too little.
Here is what she said
'Just to inform everyone of a (potential?) scammer in the area.
Some man in his late 20s or 30s in formal attire followed my sister along the traffic junction right outside Yew Tee MRT this evening, asking for directions toward Pasir Ris & Queenstown as he had no money to travel.
My sister felt harassed as he was not letting her leave, thus sent a paynow to this user as he said he had no money for a cab, his parents were broke, etc.
This fella had the cheek to be offended for the 'small sum' given.
If he was really in need of money for an urgent situation, we hope the amount given helped with his speedy travels.
However, if this is not an isolated incident, would like to ask for everyone to be on alert for any similar cases, as I'm sure our area has had its fair share of such incidents over the years (I still remember this one uncle who stole my ATM card from right under my nose at the AXS machine)'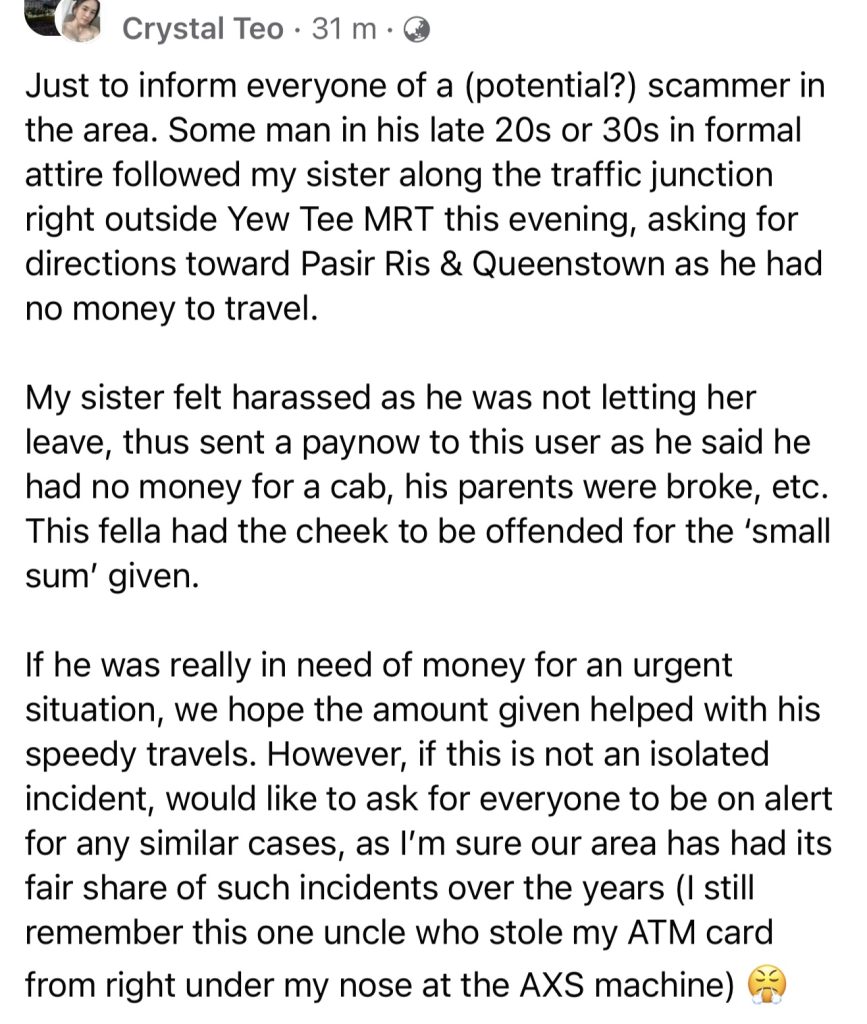 Image source: Crystal Teo/Facebook