A woman was spotted putting her legs in multiple seats of a public bus and netizens are calling to ban her from public transport.
In the same bus she switched seats thrice and lay her legs on various seats of the bus to find the perfect comfy position.
Aroma
There are certain behaviors that are considered to be unacceptable in public, particularly when it comes to public transportation. It is expected that individuals will maintain a certain level of respect for the other passengers, and that includes not placing feet on seats or removing shoes.
Additionally, it is important to be aware of one's personal hygiene and to avoid spreading any unpleasant smells. In this case, the woman's smelly feet were a clear violation of social etiquette.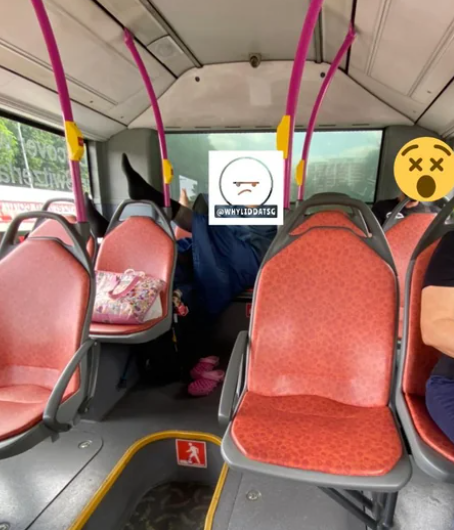 When it comes to social etiquette, it is important to remember that everyone has different opinions and beliefs. It is important to be respectful of these, and to not impose one's own beliefs on others. In the case of the woman in the public bus, it is clear that her behavior was inappropriate and disrespectful.
It is important to remember that everyone has the right to their own opinions and beliefs, but that it is also important to be respectful of the opinions and beliefs of others.
Here are what netizens think:
If elders don't respect others by being a public nuisance, how do you expect people to respect them?
What a fashion statement socks with crocs.
I hate it when people do that… By "that", I mean when people wear socks with sandals.
what i want to know is how that position is comfortable?? like my leg will muscle pull if i stretched it like that