A netizen whose cousin purportedly got married recently, posted on Facebook advising those who cannot afford an RM300 red packet, not to accept wedding invitations.
He said that "things are expensive these days, if you cannot afford to give more than RM300 in your red packets, don't accept wedding invitations and make other people lose money."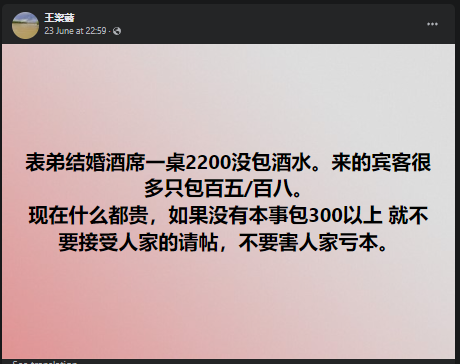 He shared how his cousin had his wedding recently, forking out RM2,200 per table, without even including the cost of the alcohol and drinks.
He lamented how many of the guests who attended, only gave him RM150 – RM180.
Netizens have since hit back at him, saying that red packets are given out of a person's sincerity and love, and not out of duty.
Others chided him and said "if you can't afford it then don't hold a wedding banquet", while another told him that he should be happy that people actually showed up.