OCBC Bank is set to raise their interest rates for their 360 savings account with effect from 1 September, and customers can earn interest of up to 4.05% per year on balances of up to $100,000.
OCBC Bank's statement
From 1 September 2022, the OCBC 360 Account will offer all customers higher interest rates for all existing bonus interest categories – Salary, Save, Wealth (Insure), Wealth (Invest) and Grow. A 'Spend' bonus interest category has also been added for customers who spend S$500 on the OCBC 365 credit card.
Customers earn bonus interest on individual banking transactions – for instance, crediting their salary will now earn up to 1.1% p.a., while saving S$500 more a month will earn up to 0.35% p.a. – and they do not have to "bundle" these transactions together to meet the bonus interest earning criteria. Customers who perform transactions in these bonus interest categories – Salary, Save, Wealth (Insure), Wealth (Invest) and Spend – can earn up to 4.05% p.a. bonus interest on the first S$100,000 in their bank account.
The banking criteria for the existing bonus interest categories have not changed. Simply by banking as they have always done, 7 in 10 customers will earn higher bonus interest. Salary and Save are the top two categories of bonus interest earned by customers, with 1 in 2 customers meeting both these criterium monthly. By continuing to credit a salary of at least S$1,800 to their account by GIRO and saving at least S$500 more than the previous month, customers can earn bonus interest of up to 1.5% p.a., up from 0.98% p.a. previously.
A new account balance tier has been included and the maximum account balance that customers can earn bonus interest rates on has been increased from S$75,000 to S$100,000. Since 2020, at least one in five OCBC 360 Account customers have average account balances exceeding S$75,000 and could immediately stand to earn more bonus interest.
These enhancements to the OCBC 360 Account are made even sweeter with the 'Spend' bonus category reinstated, enabling customers to earn even more bonus interest – up to 0.35% p.a. for this additional category – for spending at least S$500 on their OCBC 365 credit cards. One in four OCBC 360 Account customers are existing OCBC 365 cardholders, making it the most popular credit card among customers with average customer spends growing 15% year-on-year. Thus, the OCBC 360 Account benefits and rewards customers for performing banking transactions that they are already likely to do. And with 2 in 3 OCBC 360 Account customers aged between 30 and 49 years old, earning the additional bonus interest from the newly reinstated 'Spend' category will be relatively fuss-free since the OCBC 365 credit card offers up to 6% cashback for everyday spends including dining, groceries, transport, utilities, petrol and online travel – categories of spending that resonate well with this age segment.
These enhancements enable the OCBC 360 Account to live up to its promise of rewarding customers for their everyday saving and banking behaviours.

Ms Tan Siew Lee, Head of Wealth Management Singapore, said: "In a rising interest rate environment, we want to reward our OCBC 360 account customers for their savings and banking behaviours, and for doing more with us, to enable them to grow their wealth and savings. The OCBC 360 Account is compelling not just because of its competitive rates but the ease with which our customers can enjoy these rates – they can earn bonus interest just by going about their daily lives, with no conscious effort needed. By increasing the amount on which bonus interest can be earned and by reintroducing the 'Spend' bonus interest category, we are strengthening this proposition."
She added: "The return of the 'Spend' bonus category also marks a tighter integration between the OCBC 360 Account and the OCBC 365 credit card. Given that these are two of our flagship products, a sizeable number of customers can immediately benefit from this enhancement. In fact, 1 in 4 OCBC 360 Account holders already have an OCBC 365 Credit Card. While these products are competitive even when standing on their own, their potential lies in how they complement each other so we must continue to find new and innovative ways to do this to benefit our customers."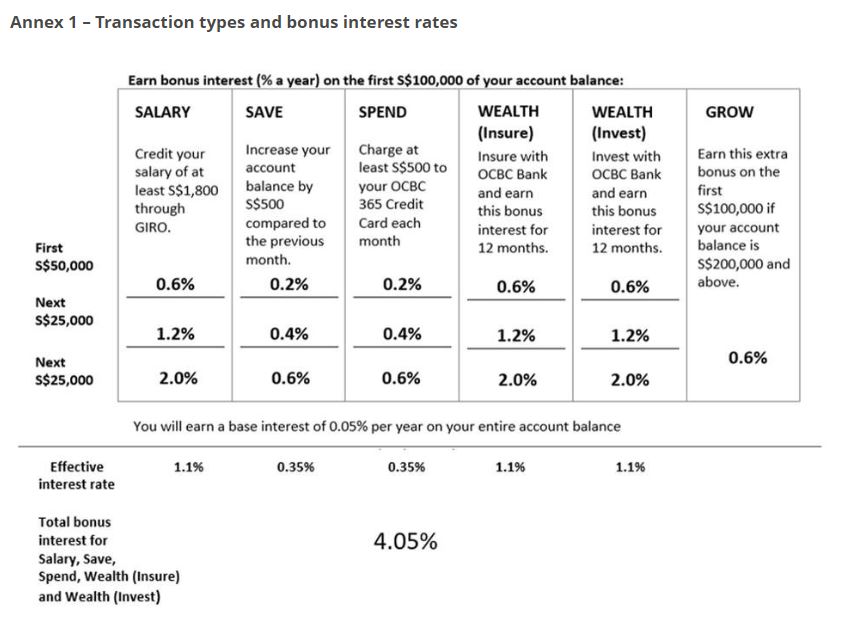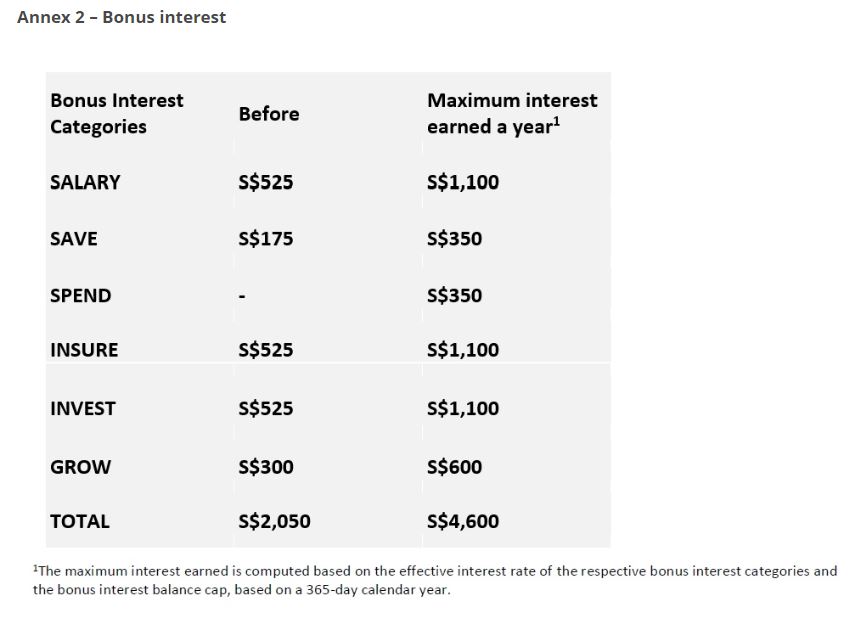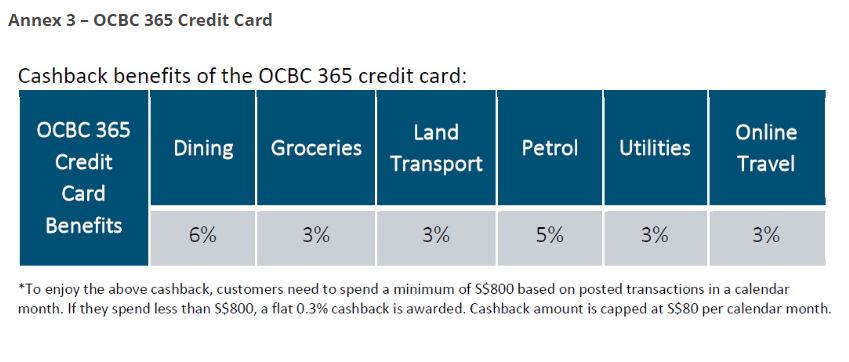 Promotion
Starting 1 September 2022, customers can enjoy more cashback with the OCBC 365 card – 8% in cashback on groceries or dining when they spend at least S$80 in a single transaction on Thursdays in September (until 29 September 2022).
Annex 4 – Promotion for new-to-OCBC customers
From 1 September 2022, new customers to OCBC Bank can earn a S$150 signup bonus when they apply for an OCBC 360 Account and OCBC 365 Credit Card together, and credit their salary to their OCBC 360 Account.