A netizen shared how he was at Clementi MRT station trying to board the MRT after everyone had alighted, but then an old man decided to alight at the last minute and blocked his way in.
The old man then shouted at him "don't block the way lah!"
Here is the story:

"Was at Clementi MRT station today at around 7.15 PM in the evening to take the train back home.
When the train arrived, I was getting ready to board the train and when the platform door opened I stood at the side and waited for people to alight first before boarding.
And when I was trying to board the train, suddenly this old man came out at the last minute and blocked my way into the train.
He made eye contact and did a "what" hand gesture, expecting me to give way to him when he is alighting at the last minute. There were also a bunch of people left and right blocking me from boarding the train at the time.
And after that he shouted at me, "don't block the way lah id–t!"
I looked at him in shock, like what wrong did I do? It was my turn to board the train after a bunch of people had already alighted.
Then after he alighted he came back and shouted at me "This is Singapore, use your f—–g brain to think for people to alight and this is not your f—–g property!".
And he then walked away and pointed finger at me, and that was when I took out my phone to capture his face, which he saw and quickly walked away.
I presumed he doesn't dare to challenge me more as he knows, in the end, he will face karma for his actions.
I wonder why is he behaving like this when he is the one who is at fault for alighting at the last minute and scolding people with his dirty mouth."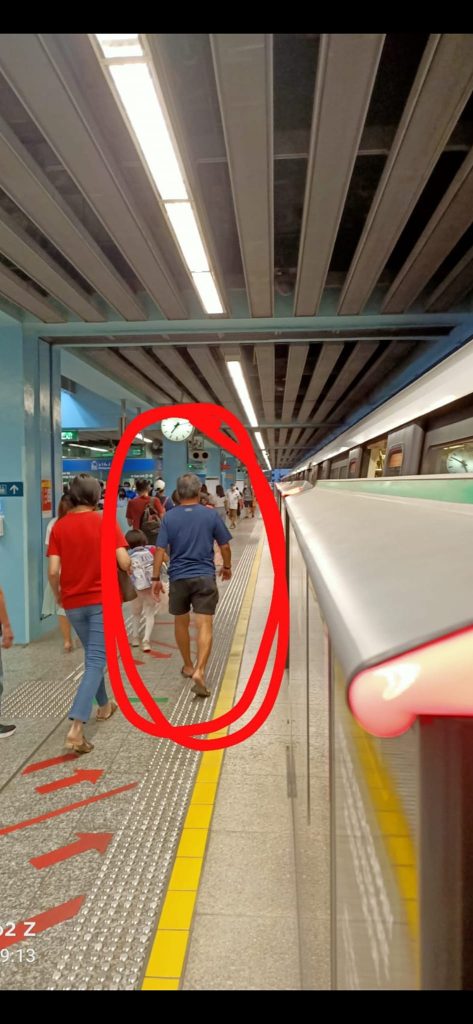 Source: Joel Tan on Facebook