Kimly Mixed Rice stall @ Kimly coffeeshop
— Pasir Ris Drive 6, Blk 444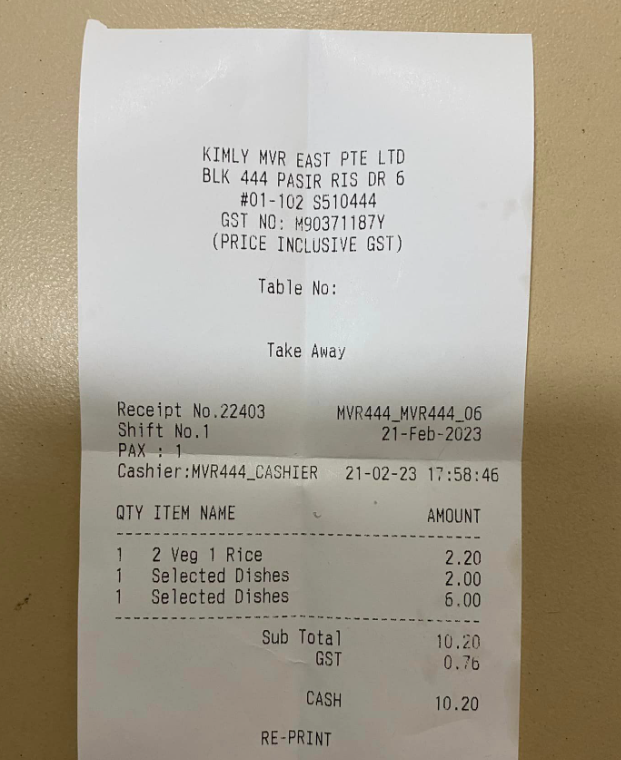 Dropped by stall operated by Kimly Group today, 21st FEB 2023 (TUE), to buy a packet of Cai Fan for dinner.
Added the following to plain rice:
• 1 slice of fish
• bok choy (小白菜)
• long beans
• tofu strips
Was charged $10.20!
I understand inflation is high & the 1% GST hike has kicked in. But $10.20 for 1 fish + 3 veggies????
That's like Ion Orchard or Taka's foodcourt prices!
Ohh, I forgot to mention: I found 1 tiny prawn (refer to pic)
After my initial disbelief, I returned to the stall to ask for a receipt. Guy I approached opened up packet & stared at food for some time before asking a colleague if I was charged correctly. This colleague then started shouting at the top of his lungs the breakdown at the very crowded coffeeshop. I promptly told him that I just wanted a receipt.
I've patronised this stall for awhile now & this is what I've discovered: I could be charged $5 on Day 1 & $9 the next day for ordering the same food.
It all depends on which guy is taking my order!
I also like to add that prices at coffeeshops/foodcourts/hawker centre in PASIR RIS is arguably the most expensive (if not the MOST expensive) among heartland neighbourhoods in SG. I can attest to that as I travel around our island on a constant basis due to the nature of my job.
Shame on Kimly & some of their staff.
Here are what netizens think:
Did not check the pricing when u are ordering? I guess the long beans fried with mince meat cos this will be charge under meat dishes ! Fish $4-$6 per slice is common lah especially if steam fish they have to get fresh ones daily if fried ones they get frozen fish will be cheaper
May want to check the price before ordering the fish. I usually do that to avoid heart attack…
Food at Punggol and pasir ris are expensive
sometime must check properly, I order 3 veg , end up owner told me 2 of the veg inside got minced meat so charge 2 meat 1 veg,