A few days ago, a China Internet celebrity food blogger was on the hot search for cooking sharks. 
On the 31st, the police confirmed that the shark in the video was indeed a great white shark), which is a second-class national-protected animal. The food blogger could face a jail sentence of up to 5 years.
In a video, the Food blogger said: "Today, I'm going to take a 100-pound giant farmed shark home to see my aunt…"
In the video, the food blogger named "Tizi" (提子) first came to the door of a seafood shop with a large package and she placed a shark into the package, attracting many onlookers.
Afterwards, "Tizi" brought the sharks back home for cutting and making it into a spicy dish and also grilled the shark meat.
During the cooking process, she put in a lot of oil, peppers and other seasonings, and finally ended with everyone eating the shark meat. 
The upper left corner of the video is marked with the words "artificial bred and edible".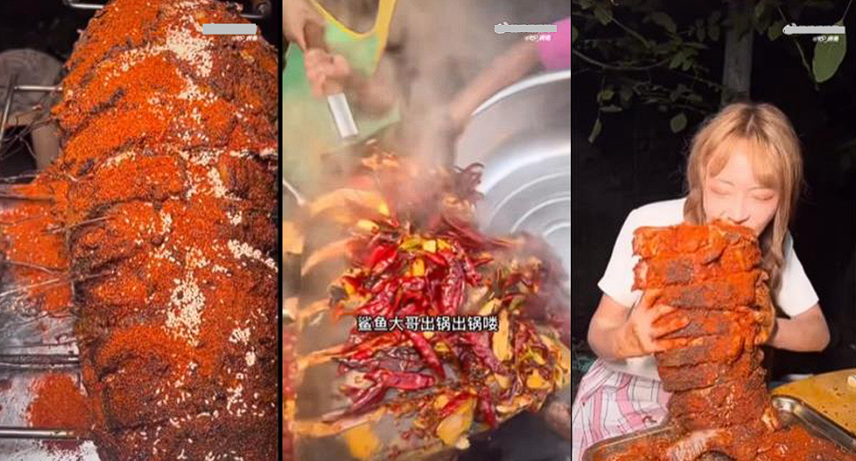 Animal Protection
The video caused an uproar on the Internet. Some popular science bloggers pointed out that this shark is an internationally endangered wild animal, the great white shark, which is a second-class national protected animal.
She responded to the media repeatedly and confirmed with the seller that the source of sharks is regular shark and not an endangered animal.
However, the police in Nanchong, Sichuan confirmed that the shark in the video of the Internet celebrity "Tizi" is indeed a great white shark), and the case is undergoing investigations.
According to a lawyer at Beijing he said that the great white shark is a second-class protected wild animal in the "National Key Protected Wildlife List". and added that the purchase has violated the provisions of Article 341 of the "Criminal Law", suspected of endangering precious and endangered wild animals, or will face a penalty of imprisonment of not more than five years.