In September, the iPhone 14 series of Apple mobile phones caused a heated discussion among the people as soon as it was released, but the praise and criticism were mixed.
In the past few days, the 14 series has been frequently searched again and again.
In the past, as soon as the iPhone went on sale, it would cause queues in the middle of the night and even crowded alleys. Now, the latest iPhones almost don't have to be lined up, and they can be taken on the spot after paying the money.
Doing anything for an iPhone
Due to the prices of the phones it is not something everyone can afford and some will do whatever they can to get their hands on the phone.
A China woman residing in Guang Zhou who goes by the name "Sherry" posted on her Wechat wall stating the following:
"iphone14 Pro Max 1TB 紫色,三天,不 戴套,你行你就来"
Which translates to:
"iphone14 Pro Max 1TB purple, three days let you do without the need of wearing protection, if you can do it you come"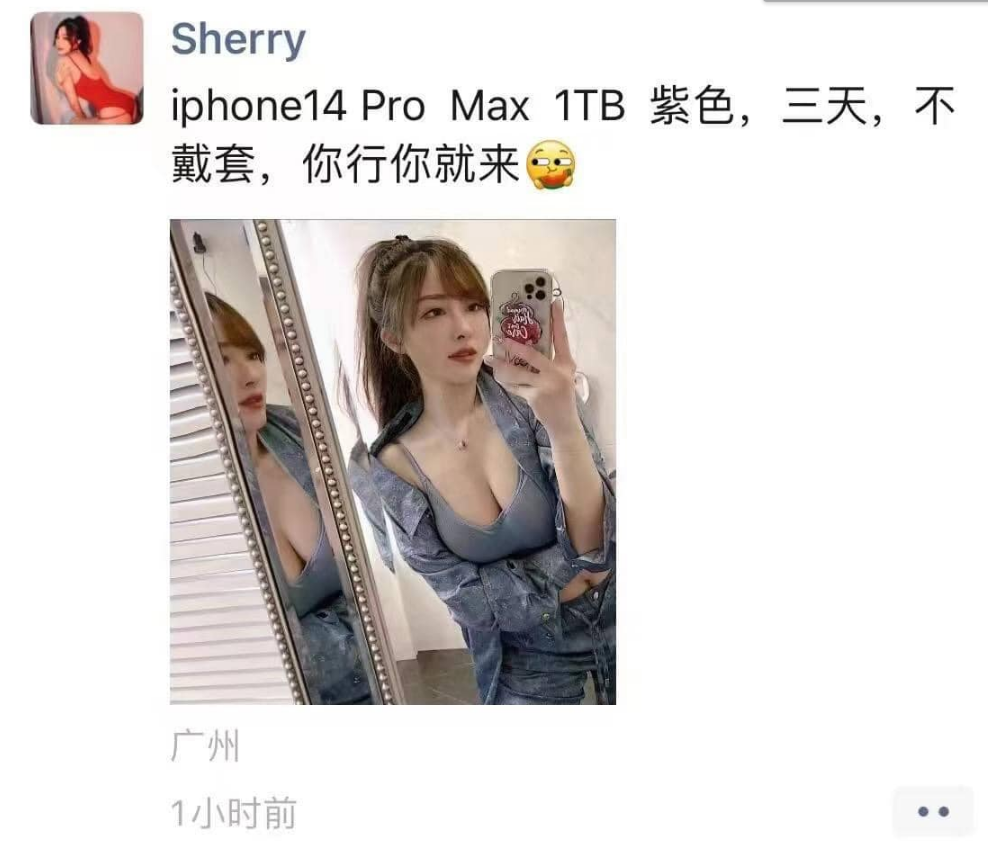 Similar stories in the past
This is one of the less extreme cases as many years ago there was a teen who sold his kidney in China so that he can afford to buy an iPhone.
At that time, Wang Gang, a 17-year-old high school student, did not hesitate to sell his kidneys in order to get an iPhone 4.
After he met the middleman in the black market, he followed the other party to an underground hospital. After a complete physical examination, he began the kidney harvesting operation.
Later, although he got 22,000 yuan for selling kidneys as he wished, but 10 years have passed, and his body has not recovered.
Due to the irregular operation process and the harsh operating environment, Xiao Wang's wound became infected and his kidney function was severely damaged.
He is 1.9 meters tall and weighs only about 120 pounds. He needs to take medicine for life. If his condition is not well controlled, he may develop uremia and even need a kidney transplant.
Today, he has renal impairment and has been assessed as a fifth-degree disability, and has to be bedridden for life, unable to take care of himself.
Although Wang Gang's parents also took the hospital involved to court and received 1.47 million yuan in compensation, the money was not enough to support the burden of living and seeing a doctor, let alone spending the rest of his life on dialysis.