Facebook user Brian Tan Tze Mian, shared how he bought a birthday cake from Prima Deli and they had the "ingenious idea" of using a slice of cheese to write "happy birthday" on it.
Here is what he said
Be careful when patronizing here!!
Extremely disappointed and pissed with this Prima Deli cake shop at 201B Tampines St21 with their "ingenious" idea of using a slice of processed cheese instead of a usual piece of white chocolate to write the "生日快乐"…And I paid an extra $3 some more for the wordings that is supposed to be on a piece of white chocolate. (See photos comparing what it was last year and today)
The staff even have the audacity to say it's normal.
Almost every birthday cake I've ordered from the same shop for the past 10yrs. This will be the last.
I can't ask a refund or a change to another same cake as no more same size.
PrimaDeli you should investigate and control your franchise properly. This is an utter disgrace and disrespectful to customer.
Update 01: My family was so annoyed with the slice cheese, that we immediately removed it. We found out that there were holes covered by the cheese that clearly shows that my cake's dark chocolate toppings looked tampered. I managed to find and added more recent picture of my recent purchase of the similar Hazelnut Delight Cake.
Update 02: PrimaDéli staff, Mr. Andrew, had contacted me today (Sep 01) this morning. Experience has been conveyed, and they had conducted their good investigation. It was found that the franchisee boss forgot to place the order for my cake, and in turn hastily use an "old" cake and remove some deco to place a cheese (assuming for their waffles?) and use it to write the deco wordings. The boss assumed it will be acceptable by the customer.
PrimaDéli with the agreement of the franchisee boss offered to do a full refund, however I declined to accept it due to my own acceptance when collecting the cake (although I'd no other options). PrimaDéli had also requested for my email which they'd propose, will offer a nice complementary cake for my next order. I have also accepted their apologies and had stressed that this should not happen again to any customers.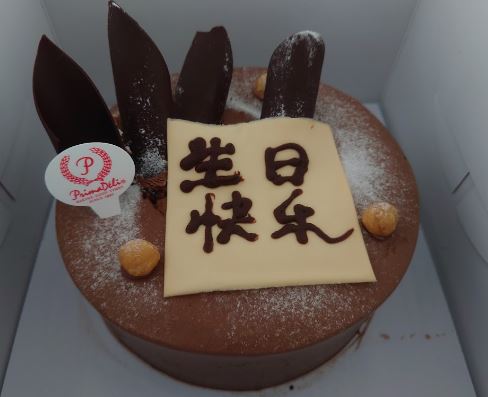 Prima Deli apologises
Prime Deli has since apologised for the customer's unpleasant experience, and said that what happened was unacceptable and they have issued a warning to the outlet.
They are also reiterating the proper operating procedures and service delivery standards to all of their franchise owners and staff.