Progress Singapore Party's (PSP) Leong Mun Wai, a Non-Constituency Member of Parliament (NCMP) was asked today (8 Mar) to remove his posts on Facebook by Zaqy Mohamad, deputy leader of the house.
The Facebook posts posted by Leong was said to have 'attacked' Speaker of Parliament, Tan Chuan Jin and the Parliamentary processes.
Leong was also urged to apologise by the end of the day, as Zaqy claimed that his posts have misinterpreted how the said debate concluded and also were not honourable, which amounted to contempt of Parliament.
Social media posts by Leong
Leong was said to have posted a 30 second long video which titled:
'This is how Speaker prevents a member from speaking'
and also included comments which labelled the Speaker's actions as ridiculous.
This was after Leong had initially stood up to ask questions about the debate on the Ministry of Manpower's (MOM) spending plans but was denied by Tan as there were no more time for questions to be asked.
Just shortly after the exchange ended, Leong wrote on Facebook:
'The Speaker didn't even give me the chance'
This prompted Tan to come out and state that not all MPs will get the chance to ask their questions as there are time limits.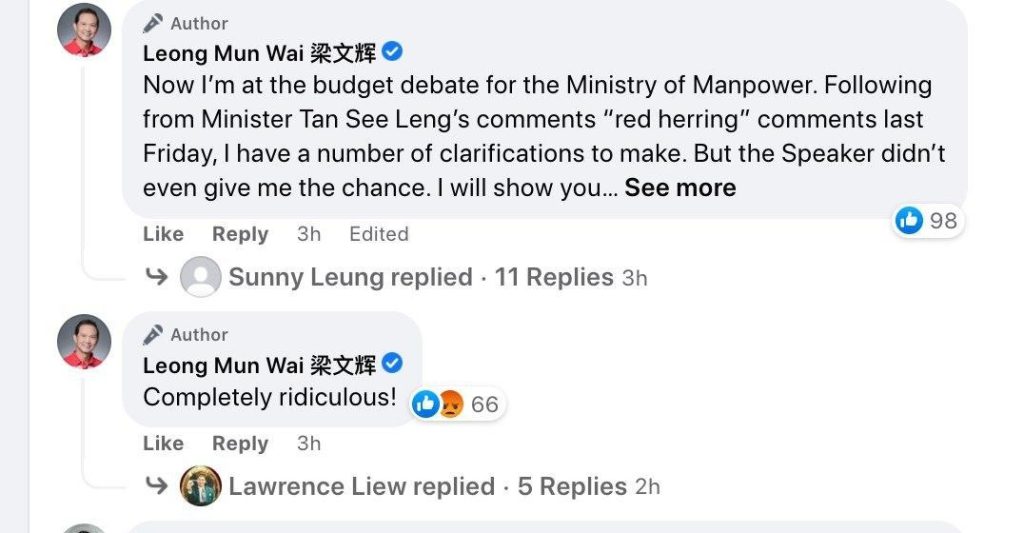 Asked to apologise to the House
Zaqy also added that Leong should take down his posts on social media which includes the video and it's captions.
He also said that Leong should thereafter make an apology in the House by the end of the day and also on his Facebook page as well as withdraw his comments.
Leong was also asked to acknowledged that he had indeed 'attacked' the Speaker and Parliamentary processes without any basis and also acknowledge that if there were questions that he needed to ask, he could always have file for a separate question in Parliament.
Zaqy then said that depending on how Leong responds to what is asked of him, Parliament can then decide on what are the further actions to be taken against Leong.
Leong was not in Parliament at that point of time and Zaqy said that a formal notification would be sent to him with regards to what was required of him to do.
Posts taken down
As of 5.20pm, Leong has taken down the posts and comments on his Facebook page but has yet to issue a statement of apology.
Image source: Zaqy Mohamad/Facebook, Leong Mun Wai/Facebook