non Finance, non loan, non property, non banking, non credit card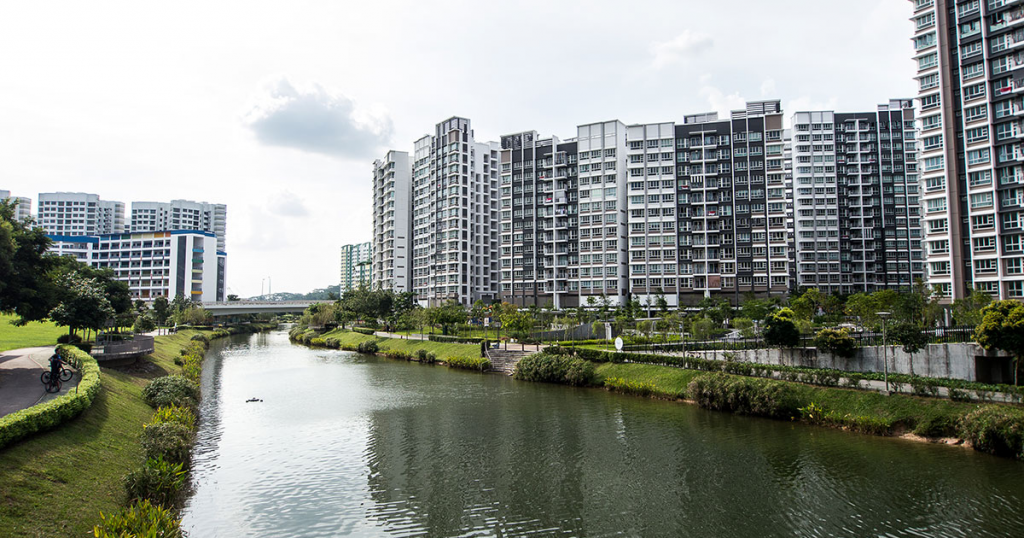 A posting on Supernatural Confessions recently talked about the dark past of Punggol Waterway. It is believed that in the past, that many deaths occurred in the area close to 50 years ago. These were believed to be due to gang rivalry between secret society members often result in deaths and unsolved murders. And the dead bodies were dumped in a sweep at the end of track 13 in Punggol.
Here is the full story.
Punggol Town & WaterwayHailed as the Punggol 21 vision to transform Punggol into "A Waterfront Town of the 21st Century", the Punggol Waterway was constructed in 2009, connecting the Serangoon and Punggol rivers across the entire estate. The 4.2 km Waterway is the central feature of Punggol, flanked on both sides of the banks with modern-style housing, recreation amenities and hipster diners.
Just slightly less than fifty years ago, Punggol was a rustic rural kampong area with rubber plantations and farms for poultry, pigs and vegetables. Gang rivalry between secret society members often result in deaths and unsolved murders. Bodies were dumped in the swamp area at the end of Track 13. Today, that spot is the housing estate that is bordered by Punggol Walk, Sentul Crescent, and Punggol Central.
Punggol Road was considered one of Singapore's "dirtiest" roads with many motorist and cab drivers avoiding that area at night.
Punggol Road was considered one of Singapore's "dirtiest" roads with many motorist and cab drivers avoiding that area at night. (The other three famous roads being Old Tampines Road, Mount Pleasant Road, and Lim Chu Kang Road). Perhaps one of the most popular Urban Legend circulating around were stories of cab drivers picking up lone female passenger at midnight and asked to be dropped where the old muslim cemetery was. The high number of accidents there were attributed to vengeful spirits inhibiting that area.
There were a total of 26 dirt tracks in Punggol. Many of them remained rural in nature even by the late 80s. Some of these tracks were disused and became dumping grounds for spiritual practitioners to "release ghosts" or conduct occult rituals. It was a common sight to find religious paraphilias and effigies left under trees tied with a yellow cloth. There was even an Urban Legend that Track 22 was where the "Gates of Hell" was situated and young spiritual practitioners would spend a night there to test their skills against the supernatural forces. The two other locations that have similar reputation is a location in Sembawang and what used to be the forested area between Tampines and Pasir Ris. 
At Track 26, where the Masjid Wak Sumang, a small kampong mosque was, there were rumours of Pontianak sightings in that area. In one retelling by an old malay woman who grew up in that area, she recalled that on Thursday evenings, it was common for devotees to hear scratching and crying sounds on the roof of the mosque.
The question I think to myself whenever I walk along the Waterway is this: What happened to the spirits that once roamed the lands. Are they still present, hidden in plain sight? Have education and logic desensitized us to old wives tales and urban legends? There's a story I've heard that would perhaps cause you to wonder as I have the next time you take an evening stroll around the neighbourhood.
Water Ghosts and Reclaimed Land
Confessions by Anthony, 76 year old retiree, lives in Pasir Ris but visits his son in Punggol frequently. Sometimes, he would jog across the bridge connecting Punggol to Lor Halus where he would take a shortcut home. One incident that took place in 2018 changed his life forever.
"Chinese believe that ghosts are drawn to places where there are large bodies of water. You may have heard of advice from old folks to avoid swimming during the lunar 7th month – hungry ghost month – because each year there is guaranteed to be some cases of drowning. Drowning doesn't only happen during the 7th month, in fact, people who are good swimmers are known to have drowned under unnatural circumstances. That's because Chinese believe that restless spirits reside in water and will need to claim souls in order to reincarnate. Sure, telling you young people all these stories, you will think uncle is old and senile and talking rubbish, but would you risk it?
The Punggol Waterway may be man-made and cuts a scenic route through the Punggol estate, but the history of the land is mostly forgotten. These areas used to be very ulu. I believe in a bit of feng shui. Unlike before, now you have more people living here, the Yang ji (energy) is very strong. Even if the place has spirits, they are also all chased away already. Chased away where? Chased to empty and dark areas, especially along the waterfront, under the bridges, and areas where people seldom go.
From my son's place to my home is about a 45 mins brisk walk back home. Taking a bus to the interchange and changing buses along the SLE to Pasir Ris takes about the same amount of time or longer. Very leh cheh (troublesome), so what I do sometimes is just walk along the waterway, cross the bridge and cut across Lor Halus and walk along the park connector. At night it can be quite windy and peaceful.
I have been doing this for a few months and got no problem but one time I think when my luck was low, something followed me back.​
But one time I think when my luck was low, something followed me back.​
That night when I got back, all of a sudden I felt very angry. I wanted to kill my wife and myself. I also don't understand why. I went to shower and prayed before bed. That night and a few nights after I had disturbed sleep. Each night just as I'm about to fall asleep I would dream of a shadow standing in the corner of my room just staring at me. She – I can sense it's a woman – was drenched from head to toe and she just stood there staring.
I lost my appetite and I started feeling lethargic, even getting a slight fever. At first I did not tell my family because I didn't want to worry them but as the fever lasted for more than a week and would only come during sunset, my wife started getting worried. Fortunately, my son who was a fan of Supernatural Confessions managed to get some contact for someone to come help me.
When the spiritual master came, he was able to tell me what I was experiencing even before I said anything. Thankfully the problem was a small one. I had accidentally brought a spirit home with me that night and as she had nowhere to go, she just attached herself to me. The ritual was a simple one. The master instructed me to go back to the Lor Halus area to conduct a simple ritual with offerings. He said that he would help her "cross over to the other side". I'm not sure if he meant crossing over to Punggol or go for reincarnation. That night I slept peacefully and my fever also subsided."