The Police would like to remind members of the public of phishing scams involving unpaid tolls. Since 13 October 2022, the Police have received at least 112 reports, with losses amounting to at least $133,000.
Victims of such phishing scams would receive text messages, purportedly from the Land Transport Authority (LTA), notifying them of unpaid bills or fines.
Victims would click on a Uniform Resource Locator (URL) link embedded in the messages to view information regarding the alleged fines. Upon clicking on the URL links, victims would be directed to fraudulent websites, where the victims would be required to provide their credit/debit card details and One-Time Passwords (OTPs).
Victims would subsequently discover unauthorised transactions made to their credit or debit cards.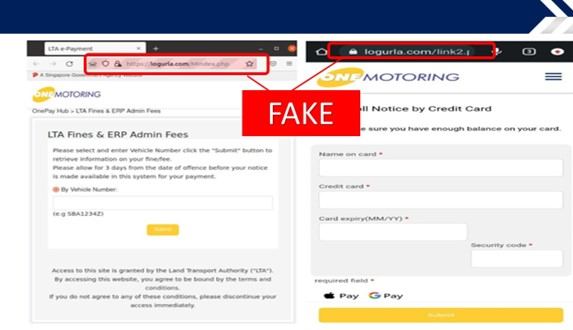 The LTA does not request for payment via URL links in its SMS alerts on offence notices, vehicle registration, and licensing matters. The Police would like to remind members of the public to follow these crime prevention measures:
Do not click on URL links provided in these text messages;

Always verify the authenticity of the information with the official sources or website;

Never disclose your personal or Internet banking details and OTP to anyone; and

Report any fraudulent credit/debit card charges to your bank and cancel your card immediately.
If you have any information related to such crimes, please call the Police Hotline at 1800-255-0000, or submit it online at www.police.gov.sg/iwitness. All information will be kept strictly confidential. If you require urgent Police assistance, please dial '999'.
For more information on scams, members of the public can visit www.scamalert.sg or call the Anti-Scam Hotline at 1800-722-6688. Join the 'Spot the Signs. Stop the Crimes' campaign at www.scamalert.sg/fight by signing up as an advocate to receive up-to-date messages and share them with your family and friends. Together, we can help stop scams and prevent our loved ones from becoming the next victim.