The Police previously arrested two men, for their suspected involvement in a case of voluntarily causing grievous hurt by dangerous weapons with common intention.
The incident happened at the carpark located at Blk 175 Boon Lay Drive.
The video went viral after the two men were seen shouting and walking about in the carpark.
20-year-old Muhammad Sajid Saleem and 19-year-old Niswan Thiruchelvam were previously charged with voluntarily causing grievous hurt with the common intention of Praveen Raj Chanthiran, Straits Times Reported.
Secret Society
According to Straits Times, the altercation started after the accused was unhappy that a man was talking to his girlfriend.
It was a planned attack, they knew that the victim would be in the area to attend the wedding and arrived at the wedding location armed with 2 knives.
He used a 23.5cm bread knife to attack two others at a wedding celebration
He also faces one count for being a member of a secret society.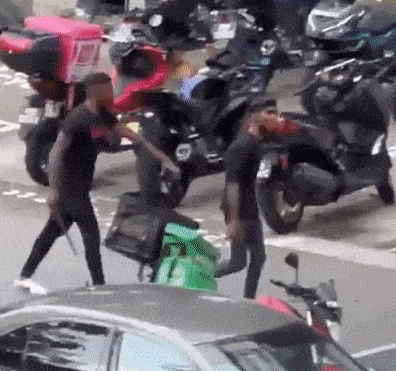 Injuries
Praveen Raj Chanthiran was slashed several times resulting in 20 lacerations.
They were handed another charge for attacking the second victim, Sarakumar (April 14) who suffered an 8cm cut on his head.
Penalties:
The prosecutor is seeking 39 months in jail and 6 strokes of rotan for the accused.
The duo out currently out on a bail of $30,000 each, they will be back in court on April 28.
If they are found guilty they will be jailed and/or fined and/or caned.
The video of the incident was captured by a resident in the area.