According to an article by Pink News, ParkRoyal Pickering hotel located in Singapore's Central area has made an apology to a same gender couple who wrote in to them to enquire about wedding ceremonies.
This was after one of their employees had earlier responded to the couple's email by saying:
"I am sorry to inform you that the hotel does not allow same-gender couples to have wedding ceremony and celebration due to the regulation."
Screenshot of reply was shared by couple online
The couple in the said article then shared the reply by the hotel on an app called Prout, which is quite popular among same gender couples in Singapore.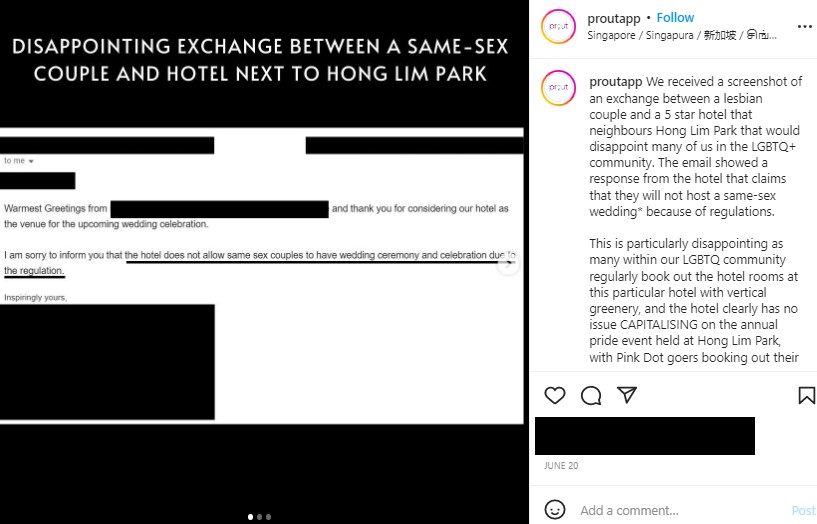 The post went viral, garnering comments from many members of the community and almost 2.4k likes as seen at the time of writing.
Parkroyal Pickering apologised to the couple
A day later, Parkroyal Pickering hotel took to their Instagram page to apologise to the couple.
It read:
"Thank you for your patience as we seek to understand this unfortunate mistake and misinformation from one of our team members at PARKROYAL COLLECTION Pickering.
We are an inclusive hotel, and we are truly sorry for the disappointment and inconvenience this may have caused.
We have since reached out to the couple and will do our best to assist them with their special occasion at our hotel."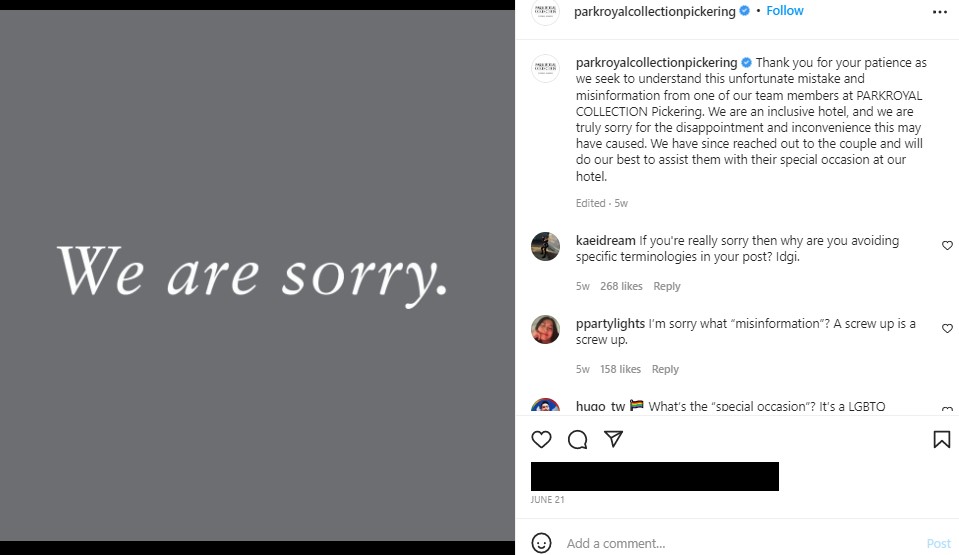 General Manager (GM) of the hotel in response to media queries said that as soon as the hotel's management got notice of the reply which was sent out to the couple, they investigated the matter immediately as the reply was not in line with the hotel's position to the same gender matter.
The GM further explained that the staff which replied the couple had made a mistake assuming that the law did not allow this without checking with the head of department.
Couple accepted apology
The couple eventually accepted the apology but opted not to hold their ceremony there.
They issued a joint statement and signed it off together.
The statement reads:
"We thank the Parkroyal Pickering for publicly and privately apologising to us.
We hope that other hotels will be inspired by the Parkroyal Pickering and reconsider their own policies and communications towards allowing same-gender couples to hold their celebrations there."
Laws in Singapore regarding same gender marriages
Current laws in Singapore do not recognise same-gender marriages but there is no specific law in place stopping people from having their own private celebrations.
There are also no laws in Singapore that stops establishments to from hosting events of these nature.
Image source: Google Maps/Unsplash