Sheng Siong will be offering a 1% discount off "everything*" to counter inflation, with the promotion running until 31 March.
The 1% off applies to all in-store items at all their outlets, but it won't apply for items such as alcohol, tobacco, lottery and baby milk powder.
Sheng Siong said on a Facebook post that this is "just a small gesture on our part to help you cope with inflation and the GST hike".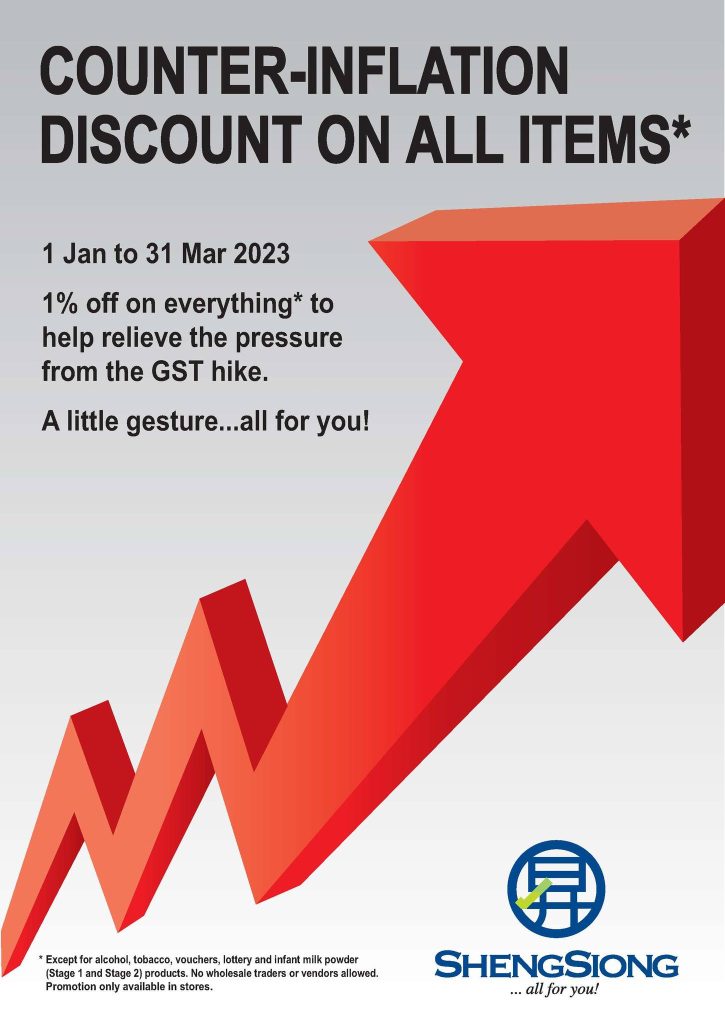 NTUC FairPrice also offering discounts
NTUC FairPrice to offer discount to offset GST increase, allaying concerns on rising cost of living
Published on
04 November 2022
From 1 January 2023, FairPrice will offer discount to offset the additional increase in GST for 500 essential items for six months
The latest effort is one of several FairPrice initiatives intended to help customers moderate cost
Singapore, 4 November 2022 – Ahead of the implementation of Goods & Services Tax (GST) increase in Singapore, NTUC FairPrice (FairPrice) has announced that it will be offering discount on 500 essential items for the first six months of 2023. This initiative will apply across all FairPrice supermarket retail formats, including FairPrice Online.
The basket of 500 key essential items is selected based on items that customers purchase frequently and serves the top-of-mind needs of customers. They comprise national brand and housebrand items such as fresh fruits, vegetables and meat, staples, dairy, paper products, detergents and household cleaners.
This announcement was preceded by a recent initiative FairPrice took to lower the prices of popular rice products despite cost pressures as rice-producing countries experienced a shift in outputs due to climate change. Earlier this year, FairPrice also took the lead to provide a 10 percent discount on four popular cooking oil products to address concerns on elevated oil prices, as well as providing a special discount for its Pasar fresh eggs (30s) in view of rising egg prices. By taking the lead in these initiatives, FairPrice plays a key role in benchmarking prices in the industry.
Some of the strategies in place by FairPrice include diversification of sources where food is sourced from over 100 countries around the world. This seeks to protect consumers from price fluctuations, as it avoids over-reliance on any one source. FairPrice also introduced a new Greater Value Every Day campaign to address concerns over the rising cost of living and provide greater value every day to consumers. This enhanced discount scheme includes a price freeze of 50 popular daily essential products every month, and up to 50 percent off for Price Drop Buy Now items. Beyond this, FairPrice also offers a large stable of over 2,000 housebrand items that are priced 10-15 percent cheaper compared to national branded items.