The short-haired auntie who was seen in a viral video throwing a chair at another woman before getting socked in the face repeatedly by another man, has since come forward with her side of the story.
The fight happened at a Getai at Lor Koo Chye Sheng Hong Temple Association, located at 15 Arumugam Road, on 10 August.
The short-haired auntie told media outlets that she reserved a seat for her friend at the Getai, but the couple in the video then arrived and threw away a cup of coffee and bun that was left on the seat, before sitting down.
She added that she received 2 stitches on her face and is adamant that she has done nothing wrong.
However, several netizens who purportedly know her said that she regularly chopes seats when she's not supposed to.
Netizens' comments
I know this aunty! She always tie up the seats at the ge tai then sell to people! It is not right because the seats do not belong to her too. If u try to argue with her she will get very aggressive and starts hurling vulgarities at you
People are saying that the black shirt man should not punch the woman blah blah, if the woman wanna act like a man and fight, dun blame the man for treating the woman like a man
That guy in black tee behind the railings is peak Singaporean. Watched the drama unfolded right in front of him but didn't even flinch cos life in SG screwed him enough 
The man was definitely wrong to punched the older lady. Shamed on him. Need to be punished.
Childish. So old liao still fight. Shame on u. Be it who is right or wrong, Just walk away.
What if accidentally hit vital and gone, then again jail etc……
How the family feels…… think before one act.
At this age is relax and go drink coffee and see our next gen growing
The fight got so boring he had to yawn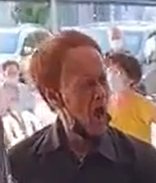 FULL VIDEO LOADING…
Recap