A Twitch streamer, 39-year-old Clarence Kang, and his wife, 37-year-old Angelica Mendoza, were streaming on the side of a pedestrian walkway outside Buona Vista MRT station when a woman wearing a skin care face mask confronted them.
She was seen in the live stream telling the couple that they are "not supposed to do this here", and telling them to "switch off that thing before I call the police" as she pointed at Kang's camera.
Kang then told her that he was just chatting with his friends, to which the woman then repeated threatened to call the police on him.
Kang then told her to go ahead ma'am, thank you and have a nice day.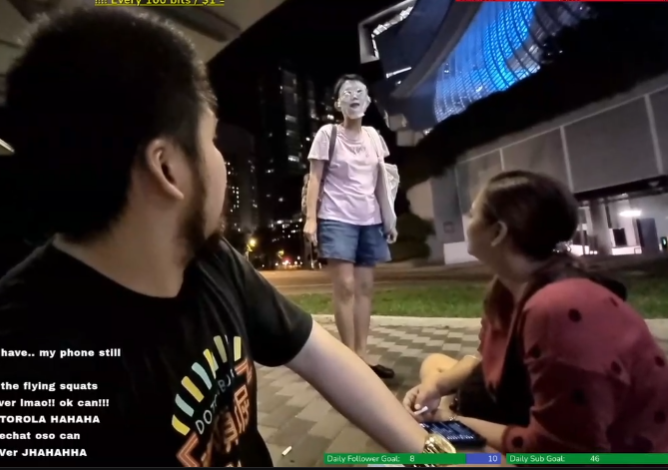 Told him "I will kick you"
The auntie then told him "don't call me ma'am, I will not teach you anything", to which she then threatened Kang, saying "I will kick you. Do you want me to kick your @ss?"
She then walked over and stood beside the couple, before telling them that they are "not supposed to eat here", and Kang then said that he was not even eating the food.
The food that the auntie was referring to, could be seen in the video packed inside a plastic bag, unopened.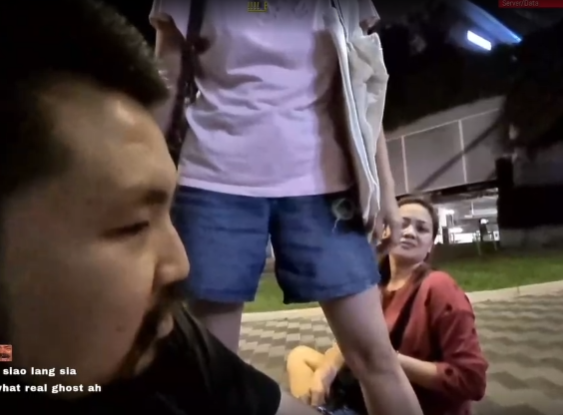 Kicked the couple's food
The auntie then abruptly kicked the food on the ground, spilling it all over the floor, and Kang then finally had enough and threw a packet of drinks at the woman.
They then asked the crazed woman to compensate them for the food that she destroyed, as the woman continued to stand beside them, before following Kang around for several minutes.
She even took off her shoes and continued to follow him around.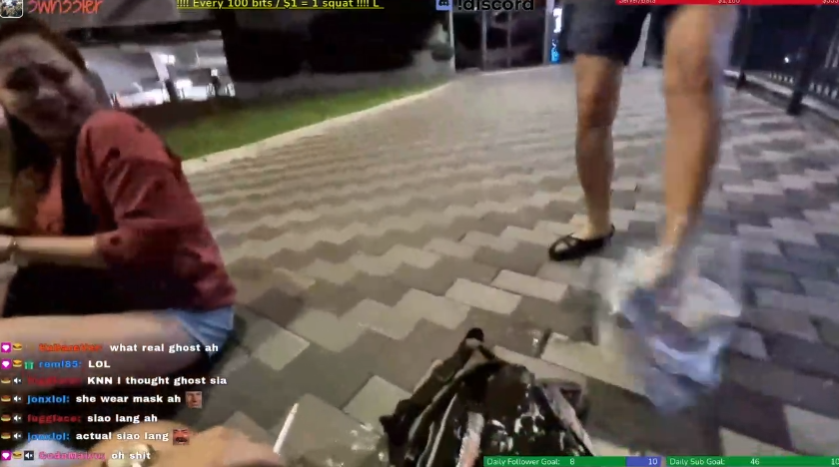 Pinned to the ground and started singing
About 10 minutes after she showed up, a passer-by stepped in to stop the "face-mask auntie", and was screaming as she was pinned down to the ground by the kind samaritan.
Moments later, the face-mask auntie started singing as she was being pinned down, and the police were then called.
The police later arrived at the scene and Kang then stopped the recording.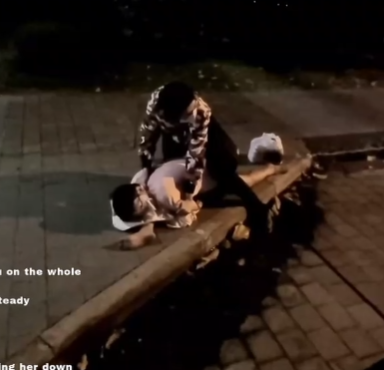 Arrested
The police confirmed with The New Paper that they had received a call for help at 100 North Buona Vista Road on 28 June at about 10.58pm.
A 41-year-old woman was arrested under Section 7(1) of the Mental Health (Care and Treatment) Act 2008.
You can watch the full video on their Twitch stream @3wh33ler.
Recap