Dear All,
I hope this message finds you well. I am writing to seek advice and help for a series of escalating issues that I have been facing since the arrival of a new tenant on the 3rd floor in July 2023.
The tenant, M, has not only impersonated my property agent, causing disputes with my neighbor, but has also entered my residence without permission on multiple occasions, instructing me on the placement of my wifi and insisting on wrapping my modem with aluminum foil. Despite my explicit requests for him not to enter my home, these disruptions persist.
The most concerning incident occurred at around 12:30 am on 15th Nov 2023 when M reported a non-existent emergency to the Singapore Police Force. Subsequently, police officers/M knocked on my door, my helper's (back)door, and continuously rang the loud call bell, disturbing the entire household while we were asleep at 12.30am. This action appears to be an absurd attempt to enforce his opinions about my modem placement, which is both unnecessary and unreasonable.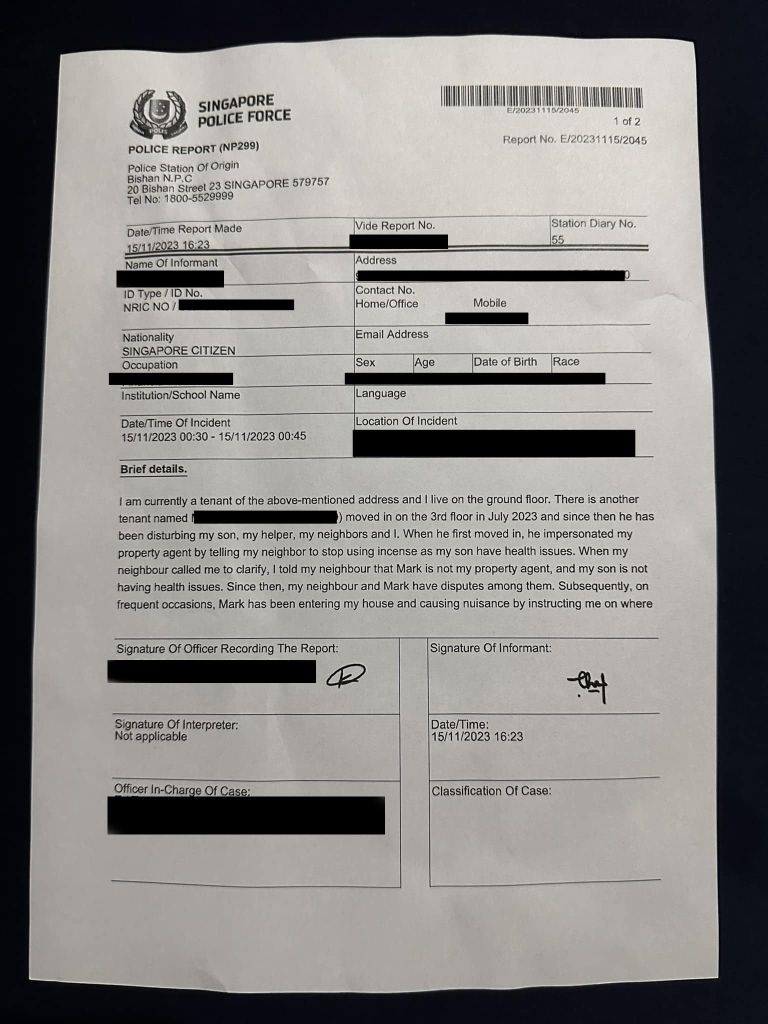 The nature of the complaint, as I understand it, pertained to the placement of my modem within my property.
While I understand the importance of addressing concerns raised by community members, I am perplexed as to why such a matter required urgent attention in the middle of the night. This incident caused significant disruption to my household, waking up my young son, my helper and myself.
I am seeking clarification on the protocols that led to this late-night visit, especially considering there was no imminent threat or emergency. I believe a more reasonable approach could have been taken, such as addressing the matter during regular hours.
I appreciate the police officers attention to this matter and look forward to understanding the circumstances that led to the midnight police visit.
I am deeply troubled by the lack of privacy and the unwarranted disruptions caused by M's actions and the police officer during the midnight for where to locate my wifi modem. I kindly seek everyone advice for me in resolving this matter promptly and ensuring the peaceful enjoyment of my rented premises. I believe this situation warrants urgent attention to prevent further disturbances.
Thank you for any advice and assistance in addressing this matter. I look forward to a swift resolution.
Sincerely,