Infamous runner Soh Rui Yong, posted his thoughts on Joseph Schooling's cannabis use overseas, and said that he stands with Schooling.
Soh said that he thinks it is ok to ban cannabis in Singapore. However, he added that "people should be free to do it overseas if they do choose".
Here is what he said
Posting this photo with him to let it be known that I stand with Joseph Isaac Schooling.
I personally think it's ok to ban cannabis use in sg but people should be free to do it overseas if they do choose. Why are our drug laws extraterritorial in restricting our people's behaviour outside the borders of Singapore?
Jo was going through a tough time, going through a loss of fitness and form, the loss of his dad, and the loss of his swimming career and his freedom by enlisting in the army. He shouldn't have smoked cannabis in Vietnam, but it looks like he did so as a coping mechanism. He hurt no one in doing so, and tested negative on his drugs test. Seems like he only had to confess because he was implicated by another swimmer who tested positive (Correct me if wrong). This is an antiquated law that is now creating a mountain out of a molehill.
Many have had photos taken with Joseph in good times and basked in his limelight. I hope you will share your photos and support him now, as he bears the consequences for his mistake.
Many politicians jumped on the bandwagon in 2016 to bask in the limelight within minutes of Joseph winning Olympic gold and bringing joy to our country. They are all very quiet now. I hope you will all speak up, support him, share your photos with him again, and show our people – you will stand with us in good times and bad!
Or is that too much to ask?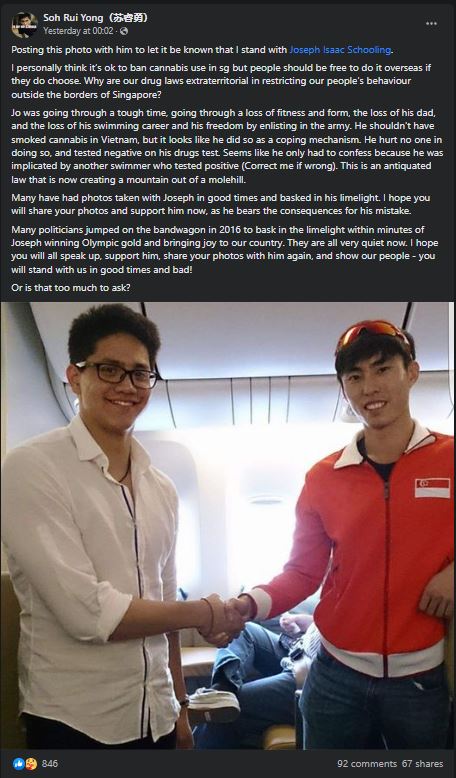 Source: Soh Rui Yong Facebook