The Singapore government is set to impose an additional 15% on excise duty across all tobacco products, with effect from 14 February onwards.
Excise duty is the duty that is levied on goods that are imported into or manufactured in Singapore.
Speaking during his 2023 Budget Statement, the Minister of Finance and Singapore Deputy Prime Minister Lawrence Wong said that the move is to discourage the consumption of tobacco products.
The increase in excise duties for tobacco products comes as part of a number of changes to taxes, as explained in the Budget 2023.
Wong said that the increase in excise duties is expected to generate about SGD$100 million in revenue each year.
Snippet from MOF's press release
EXCISE DUTIES FOR TOBACCO PRODUCTS
To discourage the consumption of tobacco products, we will raise the excise duties by 15% across all tobacco products. These tax changes will take effect on and after 14 February 2023:
(A) Cigars, Cheroots, Cigarillos and Cigarettes, and Other Manufactured Tobacco: From $427/kgm or 42.7 cents/stick of cigarette to $491/kgm or 49.1 cents/stick of cigarette.
(B) Beedies, Ang Hoon, and Other Smokeless Tobacco: From $329/kgm to $378/kgm.
(C) Unmanufactured and Cut Tobacco and Other Tobacco Refuse: From $388/kgm to $446/kgm.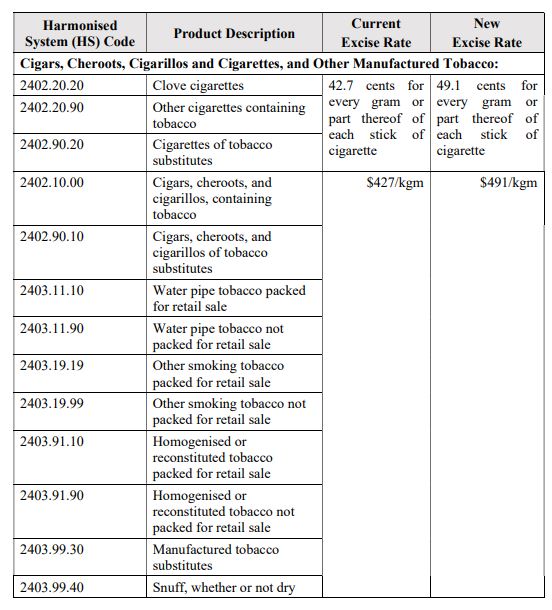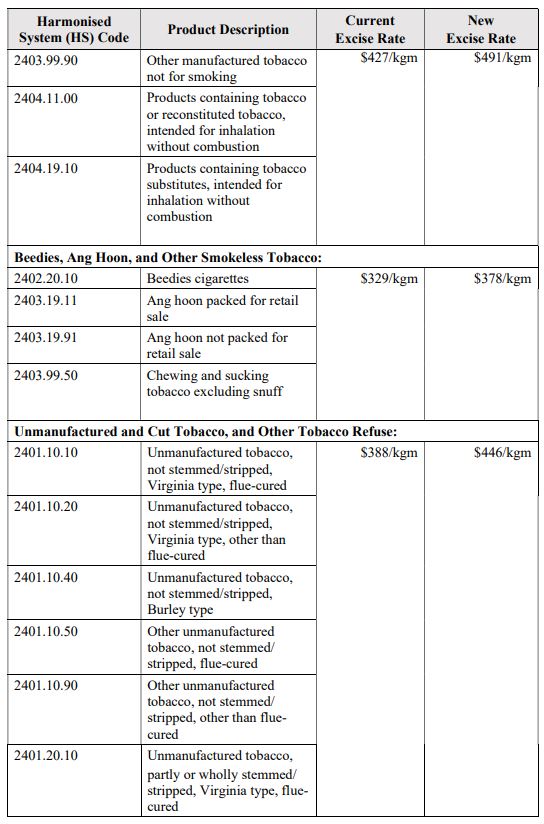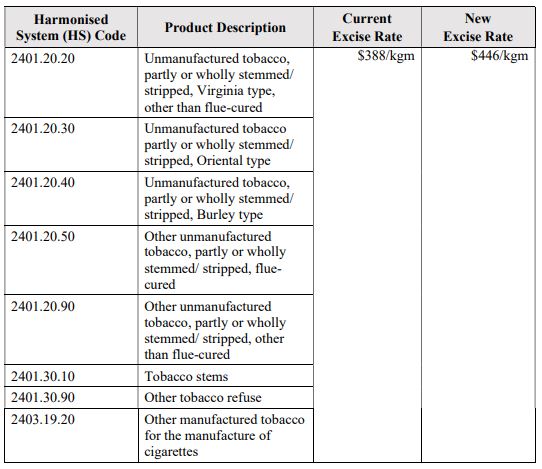 Netizens' comments
Of course smoking is bad. But benefiting from people's habits is worse.
C'mon smokers, no matter how, it is still way cheaper than Australia where a pack of ciggies cost a whopping A$50
OMG!!! Smokers, all gotta cut down on smoking…
The government could actually impose a higher % in the excise duty, but they didn't. Reason being if the increase is too steep, many smokers will quit altogether, causing a drop in the tobacco demand. Only by increasing it ever so slightly, smokers can still smoke and government can still collect a substantial amount from the excise duty.