Hapless and hopeless Man United got smashed 7-0 by Liverpool last night, sending droves of United fans back into hiding and spiralling into unmitigated despair.
However, there is a silver lining for local Man United fans after all, with Srisun Express hosting a limited giveaway for them.
From now (6 March) until 12am (7 March), patrons who show up at any of their 4 outlets can redeem 7 pratas for free if they turn up wearing a Manchester United jersey.
Srisun's Facebook post
"Dear Manchester United Fans,
WE GOT YOUR BACK!
Redeem 7 pratas for free if you turn up in your jersey at any of our 4 restaurants today from 12:30PM to 12AM.
[For DINE-IN customers only]"
Srisun's outlets
SERANGOON GARDENS
56 Serangoon Garden Way, Singapore 555952
Tel: +65 6282 2325
TAMPINES
Blk 474 Tampines St 43, #01-118 Singapore 520474
Tel: +65 6288 5747
BUKIT BATOK
132 Bukit Batok West Ave 6, Blk 132, Singapore 650132
Tel: +65 6250 5960
ANG MO KIO
407, Ang Mo Kio Avenue 10, #01 – 743, Singapore 560407
Tel: +65 66651743
Netizens' comments
People, if you're not a Man Utd.fan, and you've no problem wearing a Man Utd jersey, this is free food for you!
It is a pretty dumb move from a marketing's perspective…
7 pratas not easy to finish which results in potential food wastage, since it is free customers don't give a damn…
This is technically a move to diss United fans which could also divide your customer base, receiving boycotts from the die hards…
Should ppl gang up for free food and keep come in groups, rushing orders will also have manpower concerns… affecting paying customers…
Want to play this kind, 2 or 3 OK la… Play with 7… You better hope no one turns up
If what you guys claim is true – that you guys are Man Utd fans (as mentioned in your correspondence with a member from my Man Utd group), then this is really bad marketing! You guys might want to relook into your marketing strategy cos this is clearly not working. Cheers
Martinez kena turn round and round on the right flank until I think I saw him outside Srisun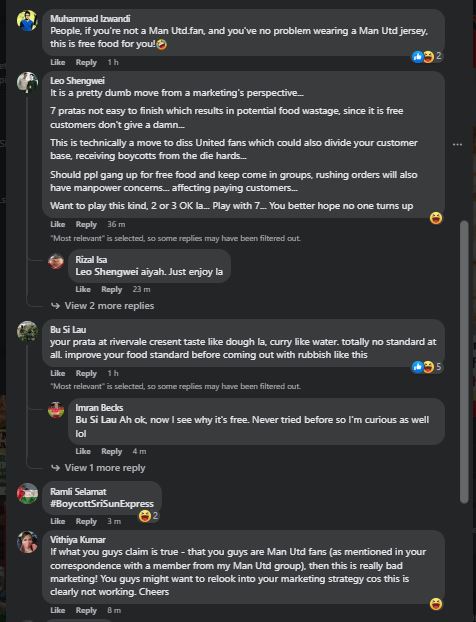 Liverpool vs Man U
#PremierLeague || Así se vivió la goleada en los palcos de prensa de Anfield…

Jamie Carragher (#LiverpoolFC) y Gary Neville (#ManchesterUnited)

😂😂😂😂#LIVMUN pic.twitter.com/7XA1ACibfm

— Doble Cinco (@doble5mx) March 5, 2023
#NewProfilePic pic.twitter.com/2ETeHG2rRO

— Jamie Carragher (@Carra23) March 5, 2023