In recent legal developments, online personality Kurt Tay, also known as Tay Foo Wei, faces charges related to the distribution of sexual content on the messaging platform Telegram.
Background of the Case
Tay, a 41-year-old Singaporean, first encountered legal trouble on November 1, when initial charges were filed against him. These charges pertain to the distribution of an intimate photo and video without the woman's consent, marking the beginning of a legal saga.
The Alleged Incident
The focus of the charges lies in an incident that occurred on October 27, where Tay is accused of sending a video of a woman performing a sex act to a Telegram chat group. The gravity of the situation is compounded by the fact that this action was taken without the woman's consent and with the awareness that it could cause her humiliation, alarm, and distress.
Legal Proceedings
Returning to court on November 16, Tay faced the legal consequences of his actions. A gag order is in place to safeguard the identity of the victim, extending its protection to the name of the chat group involved. The court session drew public attention, with individuals sharing updates through separate Telegram chat groups.
Attorney-General's Chambers and Investigation
During the court appearance, the police prosecutor requested additional time to fulfill the directions given by the Attorney-General's Chambers. This development indicates the complexity of the case and the thoroughness required in the ongoing investigation.
Tay's Response and Intentions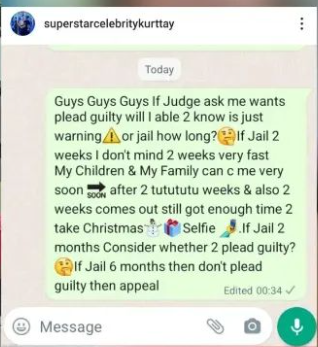 Tay expressed his intention to apply to the Public Defender's Office (PDO), a move that adds a layer of legal strategy to his defense. The judge instructed him to make the PDO application within a week and to ensure his bailor's presence at the next hearing for potential fresh charges.
Potential Consequences
If convicted of distributing intimate material without a woman's consent, Tay could face significant penalties, including imprisonment for up to five years, fines, caning, or a combination of these punishments. There is also the possibility of additional charges under the Protection from Harassment Act.
Next Court Appearance
The legal saga will continue with Tay scheduled to return to court on December 11. This upcoming hearing holds the potential for new developments and additional charges, adding further complexity to the case.
Conclusion
In conclusion, the legal proceedings against Kurt Tay underscore the serious nature of charges related to the distribution of intimate content without consent. As the case unfolds, it raises questions about privacy, online behavior, and the legal consequences of such actions.