A foreign worker in Singapore booked a TADA ride to 2 locations with the fare amounting to $31, but the driver allegedly demanded twice of the fare and demanded another $30 because of the second location.
The Journey Begins
The incident took place on a Sunday evening, September 10th, when the passenger, along with two friends, had just finished a football game in somewhere in Jurong.
With the clock ticking past 10PM and the prospect of work looming the next day, the man decided to book a TADA ride to take them to two different stops—Orchard and Bedok. The fixed price displayed on the app for this two-destination trip was set at S$31.
A Sudden Demand
Trouble began when one of the friends disembarked at Orchard, and the driver unexpectedly demanded an additional S$30 to complete the journey to Bedok.
To the passengers' astonishment, the driver argued that the fixed fare of S$31 was insufficient, claiming that the trip was "too far."
Adding to the passengers' confusion, the driver accused them of trying to "play him" and criticized the TADA app, deeming it "stupid."
The situation escalated quickly when the driver abruptly canceled the trip or marked it as completed on the app without taking the passengers to Bedok, insisting on the extra S$30 for what he considered halfway through the journey.
Police Intervention
With no resolution in sight, the passenger refused to pay for only half of the trip, prompting the driver to call the police to mediate the dispute.
During the 15 to 20 minutes it took for the officers to arrive, the driver continued to berate both the passengers and the TADA app.
Upon their arrival, the police attempted to negotiate with the driver, suggesting that the passenger should only pay half the fare since he had reached just one of the two stops.
However, the driver adamantly refused, leading the officers to advise the passenger to pay the full fare first and then file a complaint with TADA.
An Unpleasant Experience
The man expressed his dissatisfaction with the driver's service, emphasizing that he had never encountered such behavior from a ride-hailing driver before.
He recounted numerous instances when drivers had been courteous and friendly, going above and beyond to provide a positive experience for passengers.
In stark contrast, this particular TADA driver not only demanded extra money but also insulted the passengers by suggesting that they smelled bad after their football match. He even claimed that he would need to invest time and money in cleaning his car seats due to their odor.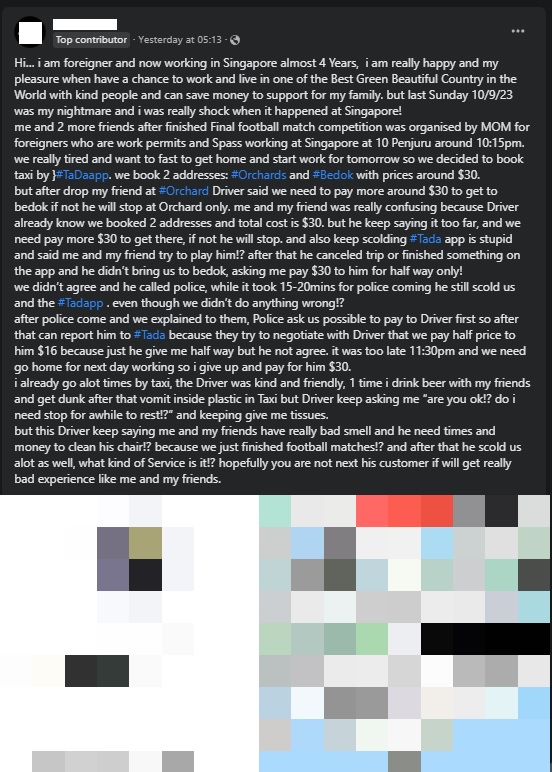 Source: Facebook