Following the uproar over Singapore presidential candidate Tan Kin Lian's repeated Facebook posts about "pretty girls", the Association of Women for Action and Research (AWARE) issued a statement saying that recording women in public without their consent, posting about pretty girls and commenting on their appearance isn't light amusement, but an act of objectifying women.
Tan Kin Lian then responded on his Facebook page and website, rejecting AWARE's "allegations and insinuations", and said that they have lost the respect of many people for being "involved in gutter politics, and in a smearing campaign" targeting him.
Tan Kin Lian's website statement
A smear campaign against TKL
I was the target of a smear campaign over the past few days.

Someone sent a few screen shots of my Facebook posts over the past 10 years to the mainstream media. These posts were about "pretty girls" that I met at the shops, on the jogging path or at a mall. The sender was said that she felt uneasy about these posts.

I thought initially that it was the view of a single person and that the mainstream media should not blow it up. I was wrong.

It is now clear to me that it is a concerted effort by an attack group that went all out to smear me. This group involves an attack team from a political party that is now backing my strongest opponent. The editors of the mainstream media is also part of this smear effort.

The concerted effort later involved a woman right's organization and a comment by the presidential election committee. The mainstream media wrote up the episode to make me look very bad.

A fair and impartial mainstream media would have realized that these posts would have been seen by several hundreds of thousand people over the years and that most people who consider them to be light hearted and non-offensive. It is dishonest for the media to portray them negatively.

Many of my supporters were concerned about the negative impact on my campaign. Some of them pledged to work doubly hard to overcome this handicap. Many others said that this is clearly a malicious and unjustified smear effort.

Let me say a few words about "building trust" and "uniting the people".

The government uses these words as their goals. But these are words, because their actual deeds are clearly different. Many people said that their deeds do not match their words. They do not trust the hollow words.

The government leaders cannot build trust when they continue to act in a dishonorable and malicious way. They cannot unite the people when they go all out to attack, in an underhand way, the reputation of the people whom they consider to be their opponents. I am not even their opponent.

All along, I have said that I respect my top opponent. It appears to me now that he is involved in this smear campaign. If this is the case, I would change my mind about him, and would now consider him to be unfit to be the president of Singapore. I hope that he will say a few honest words, about this matter, to regain my respect and the trust of the people of Singapore.

In spite of this bad incident, I still pledge to work with the government, if I am elected as the president. I will continue my effort to influence the government to change their policies so that the people of Singapore can have a better life. My goals are to bring down inflation, make housing affordable and jobs secure.

Tan Kin Lian
Tan Kin Lian's Facebook responses
I totally reject AWARE's allegations and insinuations that social media posts I have made "objectify" women.
I do not objectify women since I have many in my family. I have been happily married to my loving wife for nearly 50 years.
We have been faithful to each other through the years and no tinge of infidelity or scandal has ever attached to my marriage.
I have two wonderful daughters and a son. Together, they have given me and my wife three grand-daughters and two grandsons.
I made those social media posts openly and I invite the public to judge for themselves whether they objectify or denigrate women in any way.
I am also hugely disappointed in the mainstream media and irresponsible alternative media for attempting to make a mountain out of a molehill. This is gutter politics at its worst.
Calls were made for a clean and fair contest but it appears that the establishment are keen to win at all cost.
I have faith that my fellow Singaporeans will not allow our electoral system to be debased by scurrilous attacks.
Tan Kin Lian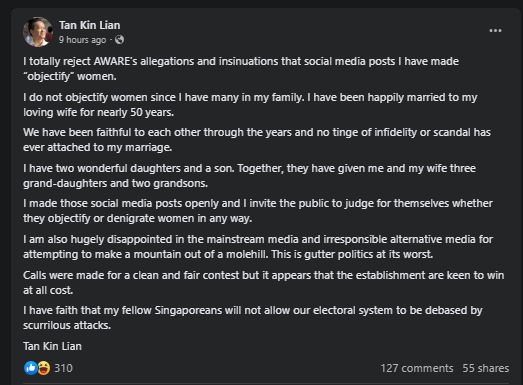 Many supporters asked me to ignore the malicious comments, from individuals and organizations, and to focus on my campaign.
I ask my supporters to reply to these malicious posts and call them out for being malicious and petty minded. They can attack other people, but they should be ready to be attacked.
Alternatively, you can also politely tell them that TKL's posts are light hearted. It is quite natural to appreciate people, both males and females, who take a lot of trouble to look attractive. They deserve to be complimented.
I prefer to compliment females and leave the males to be complimented by the opposite gender.
Tan Kin Lian
I believe that AWARE would have lost the respect of many people, including me, for being involved in gutter politics, and in a smearing campaign. I ask AWARE to act honorably to regain the respect that it had lost.

Tan Kin Lian's Facebook live response