An eatery in Teck Whye reportedly charged a customer $8 for a plate of french fries, and netizens have been up in arms over the perceived exorbitant prices for a simple dish.
The netizen who bought the fries, Qeelah Redwan, shared her thoughts on Facebook, saying "$8.00 for just the fries? You must be kidding me bro. Teck Whye Rasa Rasa you should do something about it."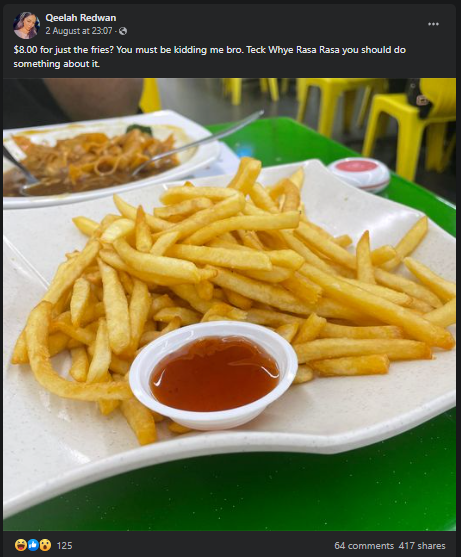 Netizens' comments
Should try Mcdonald fries .. coz the price is too hype for the fries here .. cabot pergi mcd or kfc la..
8 dollars for fries when the whole bag costs 5 dollars plus i think?day light robbery..
same goes for rasa rasa at yishun… i used to eat their western food, 3 pieces chicken wing plus fries. those were $7.50 but now its $12 i think. i was shocked..
the pricing don't make sense. i bought spicy fries $9, (expensive but didn't look at the price), but burger with fries cost $9.50. ???
Owner responds
The owner of Rasa Rasa @ Teck Whye spoke to MustShareNews, saying that they conducted a market survey on the food prices and saw that there was a 40% increase.
They said that they then fixed their prices in order to keep up with the price increase and sustain their business, and added that they don't have hidden prices and that the customers know the exact amount that they are paying.
The eatery also said that the quality of their food and the portion sizes have remained the same since their opening.