The Public Transport Council (PTC) has announced that public transport fares will increase by 2.9%.
This means that bus and train rides will cost four to five cents more for adults who pay by card starting on December 26
Half of the Singaporeans will see a small fare increase of 1 cent for every journey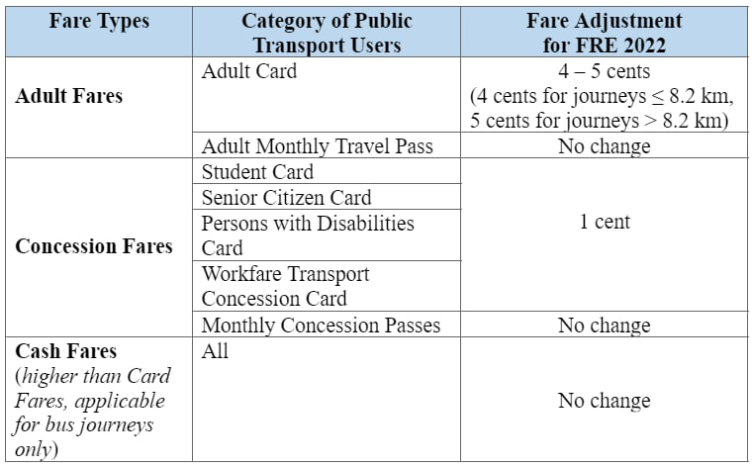 Concessionary fares for seniors, students, people with disabilities, and low-wage workers will also increase by one cent per trip.
The Public Transport Council (PTC) has decided to grant a fare increase of 2.9% for the 2022 Fare Review Exercise (FRE), balancing the need to keep fares affordable for commuters in a period of rising inflation, while ensuring the sustainability of Singapore's public transport system amidst rising costs.
The cost drivers for public transport rose significantly from 2020 to 2021. The global energy crunch in 2021 caused energy prices to increase by 117%. This, together with increased manpower costs and inflation, led to a maximum allowable fare adjustment quantum of 13.5%, according to the PTC's fare adjustment formula. PTC has decided to apply the same principle as FRE 2021 and continue to exclude the Network Capacity Factor from the computation of this year's fare adjustment quantum.
The fare increase is 2.9% this year, and the remaining 10.6% of this year's fare adjustment quantum will be carried over to future FREs. This is made possible by the Government's provision of an additional subsidy of about $200 million in 2023. This will help to mitigate the impact of the fare increase on commuters. 
Adult card fares will increase by 4 to 5 cents per journey depending on distance travelled. The increase in concession card fares will be capped at 1 cent per journey to keep fares lower for students, senior citizens, lower-wage workers, and persons with disabilities. This means that around two million commuters, or half of Singaporeans, will see a small fare increase if they pay per journey. There will be no change to the prices of monthly concession passes and adult monthly travel passes.