Two Members of Parliament (MP) have tested positive for the virus and they have shared it on their Facebook pages yesterday (3 Feb).
They are Tan Kiat How, from the People's Action Party (PAP) ward of East Coast as well as Eric Chua, from the PAP ward of Tanjong Pagar.
Mr Tan's post
Mr Tan has since recovered and tested negative on day 4 of his isolation and he has provided an update to his Facebook post.
"TLDR: Basically, I tested positive for COVID over CNY, but I have since recovered.
Day 4, and it turned negative!

What a start to the Year of the Tiger. Instead of family gatherings and visits, it was self-isolation in my study over the CNY period. I had hardly any symptoms – no fever, no sore throat. I just felt slightly more tired than usual which I thought was due to running errands to prep for CNY.

I wouldn't have known if I hadn't been doing almost daily ART. My immediate reaction when I saw the "C" and "T" lines was to quickly put on my mask and tell my wife. Under Ministry of Health, Singapore's Health Protocol 2, I would isolate at home for at least 72 hours (https://www.covid.gov.sg/well-and-positive-or-condition…).

With Omicron being highly transmissible, my wife and I have been mentally prepared for such a scenario. Still, it was rather unexpected.

Our priority was to protect Isaac. Being 18 months old, he is unable to get vaccinated just yet. I brought all the barang that I would need over the next few days into the study, which fortunately has a spare bed (although our fur kids did not like being kicked out of their room). My wife then had the unenviable task of doing another round of spring cleaning the common areas, especially areas frequented by Isaac.

Over the next few days, I didn't step out of the study except to use the bathroom and to collect my meals, which were left on the floor outside the study. I spent a fair bit of my solitary confinement catching up on anime (thank you Netflix). I also did a daily ART to monitor my condition (https://ask.gov.sg/questions/830), even though this is not required during the self-isolation period.

My wife, who is considered a close contact, also took precautions (https://ask.gov.sg/questions/509). She immediately took an ART, which turned out negative. Although she was feeling well, she decided to do a daily ART during this period, especially because of Isaac. Just yesterday, my wife's ART turned positive. We scrambled to pack all of Isaac's stuff (and kids have a lot of stuff!) and shipped him off to his grandparents. I think Isaac was the most excited about this adventure.

I tested negative today, but we're still not out of the woods. My wife is still testing positive, and we're checking in constantly on Isaac and hoping he stays well. On this note, I must say I fully empathise with parents of young kids who say that they worry about bringing COVID home to their family. It is nerve-wrecking to keep wondering whether you have infected your kid.

It will be at least a couple more days before my wife ends her isolation and we can bring Isaac home. I certainly miss his hugs and kisses, though from the photos his grandparents send, he is having too much fun to miss his dadda. In the meantime, my turn to do my share of the housework and take care of wifey during her isolation!
Mr Chua's post
Mr Chua mentioned that he had felt a little bit 'heaty' an took an ART test which turned out to be positive.
He subsequently had symptoms like fever and body aches.
"[ I Am C+ ]

Dear all, remb in my FB/IG story last night I mentioned I was feeling a little "heaty"? Turns out I was actually COVID positive. 😔

As I meet many in the course of my days, I perform daily ART to protect the people I meet, and also my loved ones around me. Last night I started experiencing disrupted sleep due to body aches and a low grade fever. As a precaution and a routine of mine, I tested myself on the ART this morning. After seeing the faint line under the letter "T", I freshened up, double masked myself up and proceeded to the nearest GP via pte transport (I drove) to get myself assessed.

As I'd expected, the doc placed me on Protocol 2, and I'm supposed to test myself after 72hrs, i.e. on Sunday and I'm free to roam if I test negative then. I was given some Panadol and Lozenges, and all in, I paid $10 for the trip to the doc.

I'm still experiencing some light symptoms and I do apologise for the several cancelled events over the next few days – my sincere apologies. Hope to be back once I complete Protocol 2, and till then, take care everyone!!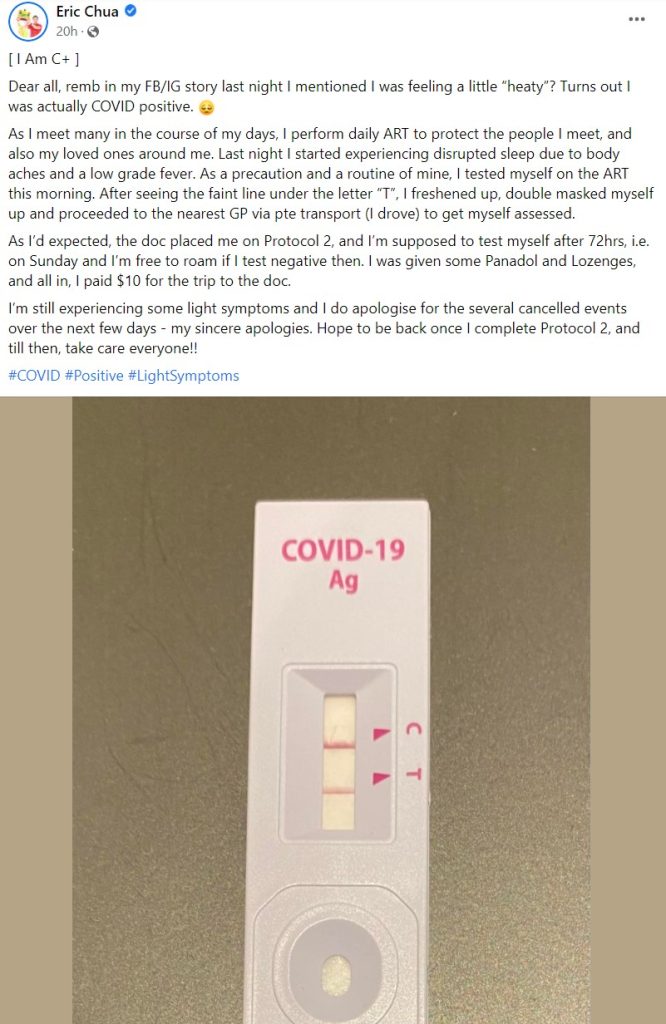 Speedy recovery to both of them!
Image source: Tan Kiat How, Eric Chua/Facebook