According to the Police media release, two women were arrested after an operation against illicit activities were conducted by the authorities.
The Police a carried out enforcement operations against vice-related activities at two massage parlors on Geylang Road. Two women, aged 37 and 44, were arrested on suspicion of violating the Women's Charter of 1961.
Photos of massage establishment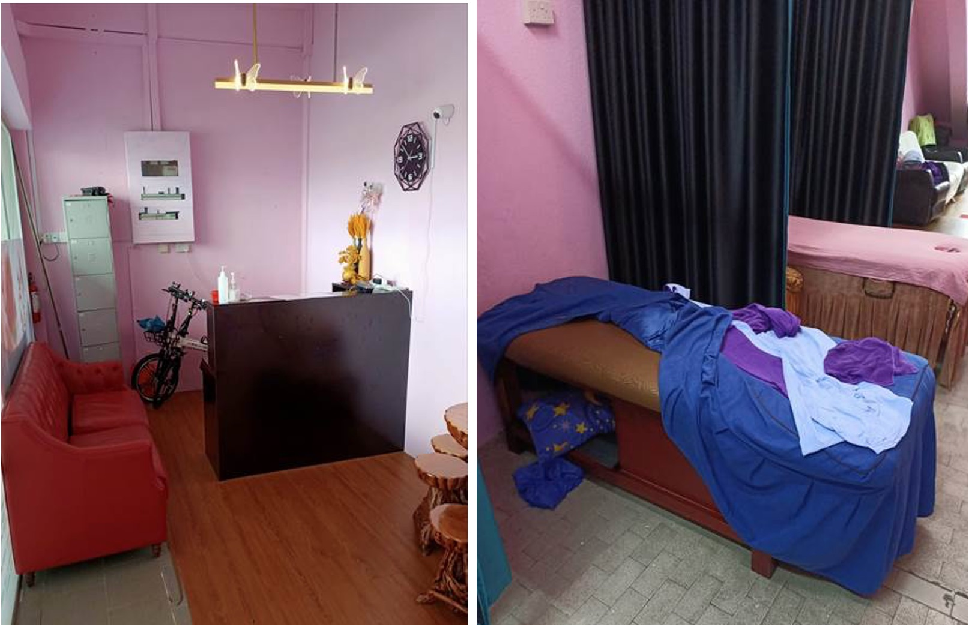 The establishments will also be investigated for reportedly functioning as massage parlours without a proper license.
Penalties
Individuals found guilty of carrying on a business of providing massage services in an establishment for massage without a valid licence are liable to a fine of $10,000, imprisonment of up two years, or both.
Those found to have breached the prescribed rules and conditions under the Massage Establishments Rules 2018 are liable to a fine not exceeding $5,000.
Illegal Hawker and Contraband Cigarettes
Two males, aged 44 and 67, were found to be involved in unlawful peddling during an investigation targeting illegal hawking operations and were issued summonses under the Environmental Public Health Act 1987 for peddling secondhand items in a public area without a valid licence. The items on display for sale were confiscated for further examination.
Singapore Customs officers also undertook enforcement against duty-unpaid cigarettes. Five males, ranging in age from 24 to 53, were issued advisory and fines of up to $2,500 for possessing duty-unpaid cigarettes. As part of the operation, 20 sticks of duty-unpaid cigarettes were seized.