There are several avenues for getting a loan and finding a loan shark is the worse one.
A resident who is staying in upper Aljunied received a note from a loanshark who threatens to burn down not only the debtor's home but also their neighbour's home.
Here is what the netizen wrote:
We received this letter with hell notes from this kingsley (unknown sender) that makes me worried as the person/owner of the IC is not even staying in my house and we dont know this person at all, what if this sender come to my house and disturb us. My helper and my youngest son is d only person left at home at day time. Hope the owner of this ic see my post here and settle what he owed to this people and put his correct address too.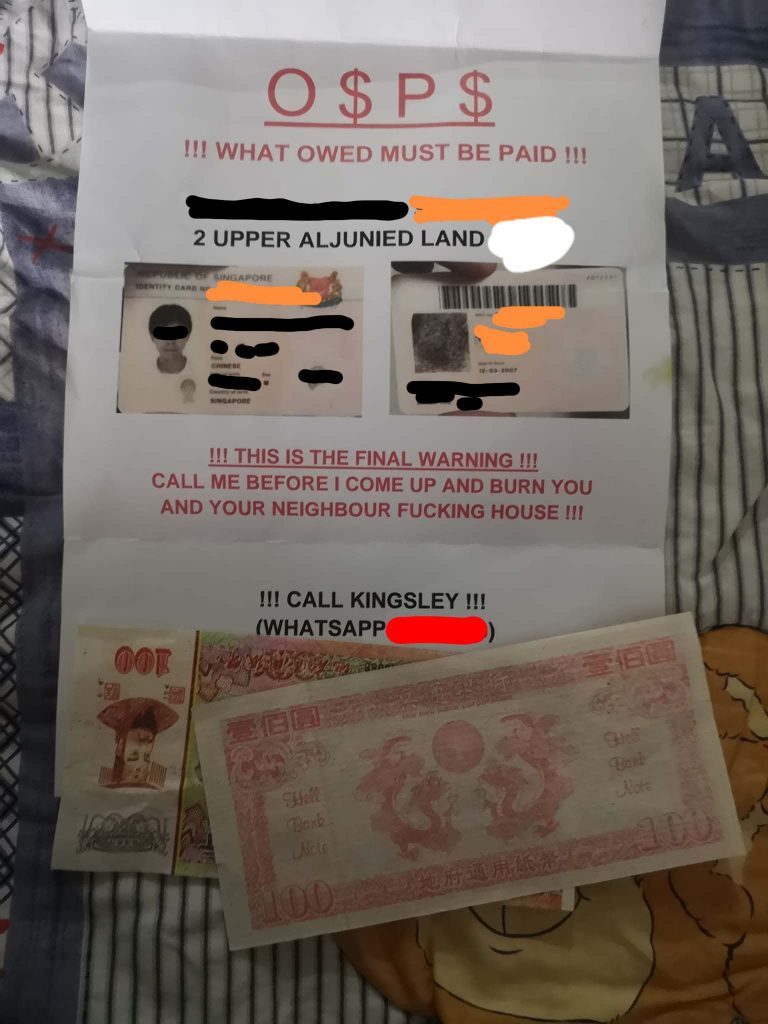 Here are what netizens think:
Not very difficult for police to track down the loan shark especially they have the details (IC) belongs to the debtor!
Report police…if I never guess wrong this person changed address after oweing money..so is hard unless this person still in Singapore if not you have to get cctv and also lodge report..
Is either u ignore or u can do police report… but 1st u have to knock on this person door 1st.. i got the same thing before.. mine is ic n the photo of the prson in ic but in naked… lucky got the other unit make police report… if not i have to stay abit longer at station… 
Penalties for loanshark harassment:
For first-time offenders, the offence of loanshark harassment carries a fine of between $5,000 and $50,000, with mandatory imprisonment of up to five years, and mandatory caning of up to six strokes. Repeat offenders shall be fined between $6,000 and $60,000, with mandatory imprisonment between two and nine years, and mandatory caning of up to 10 strokes.