TikTok user @nearbykoala shared how she bought 4-piece nuggets from a McDonald's outlet @ Selegie Road, and was denied curry sauce by the fast-food restaurant's manager.
The manager purportedly told her that "4-pc cannot take curry sauce", and reiterated the stance to the staff member beside him.
The netizen said that she thought all nuggets were entitled to the curry sauce, and she was told by the manager that she would need to pay for the curry sauce.
She was already holding her nuggets order and her drink, and didn't have any cash with her – she also didn't want to walk back just for the curry sauce.
She then asked other netizens if they thought it was reasonable of the restaurant not to give her the curry sauce.
A quick check on the McDonald's website showed that the manager was in fact right as the McDonald's policy on curry sauces stated that the free sauce only applies to 6-pc nuggets and above.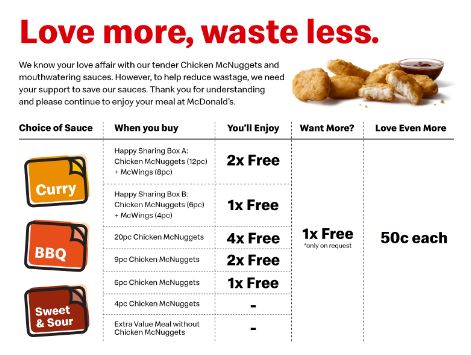 Netizens' comments
worked at mac b4. every 4 piece nugget purchase cannot get curry sauce. its a rule for every mac outlet.
Yes at tampines east mcd too. The manager told me she let me take 1 time curry sauce only. Because I bought the $3 weekend treat, and not value meal.
Just ordered 4pcs nuggets with drunks bundle any 2 for $3. ask for curry sauce, given promptly.
I order fries only they already give me curry sauce liao