Facebook user Yulia Anakova shared how she bought a pair of gold earrings from Goldheart online via Shopee, and when she received her gold earrings, realised that they didn't look the same.
She then took it to a Goldheart outlet at Ion and the staff there even agreed with her that it was poor workmanship, and advised her to get a refund for her gold earrings.
Here is what she said
Shopee, I bought a pair of $500 gold earrings from your goldheart shop online.
Earrings are a pair and should look identical. I took side by side photos of the pair of earrings to show the POOR workmanship and your validator who processes refunds rejected my return with no explanation!
I went through the trouble of going down to goldheart Ion and the staff there agreed that it was poor workmanship and advised me to return it back to Shopee to get my refund.
Is your validator even a certified jewellery expert?
I even called your hotline and a customer service rep called Jerry said he will get back to me within three days. 3 weeks later still no reply!
I have spent thousands on your platform and this is not what I expect. I regret not going through Lazada or Amazon instead.
I would like a full refund immediately.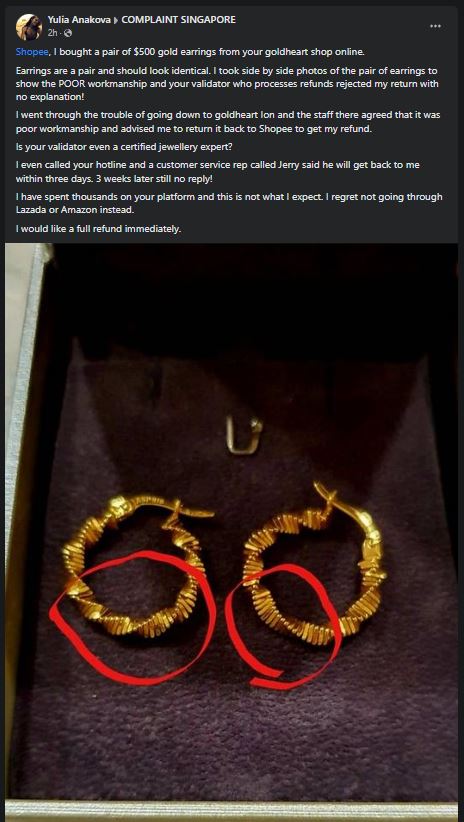 Source: Yulia Anakova on Facebook