A customer who patronised the Jollibee outlet at Lucky Plaza, had apparently found a huge metal screw that was bent, inside her Spaghetti on Wednesday (15 March).
She was dining in with her daughter at the time when she found the foreign object, and she said that had her daughter eaten it, things would've taken a different and severe turn for the worst.
The woman took to her Instagram on Thursday (16 March) to highlight the discovery, sharing a photo of the bent metal screw inside their food.
She said that she felt horror at finding the screw, and doesn't even want to imagine the scenario of her accidentally feeding her daughter the metal screw for dinner, which she says gives her anxiety until now.
Here is what she said on her Instagram
Screw that we found inside our JOLLIBEE SPAGHETTI purchased at LUCKY PLAZA BRANCH last Wednesday (March 15).
You cannot imagine the horror any parent would feel knowing that I could have mistakenly fed my daughter a piece of screw for dinner.
This still gives me anxiety up until now. I don't even want to imagine that scenario. We were just grateful that I found that screw. Thank God.
I'm torn whether or not I should post this because his concerns a Filipino brand that is very closet o my heart. I also don't want to jeopardise the livelihood of the people who works for that restaurant as this incident is a rare occurrence.
However I feel socially responsible to inform the public to be cautious when dining at that specific fast food chain.
Mix your spaghetti well. Check for spare parts.
However, I want to reach out to the management of Jollibee Singapor so I can formally send my complaint and to the appropriate government agency to investigate this incident.
Food handling and food safety is a serious matter.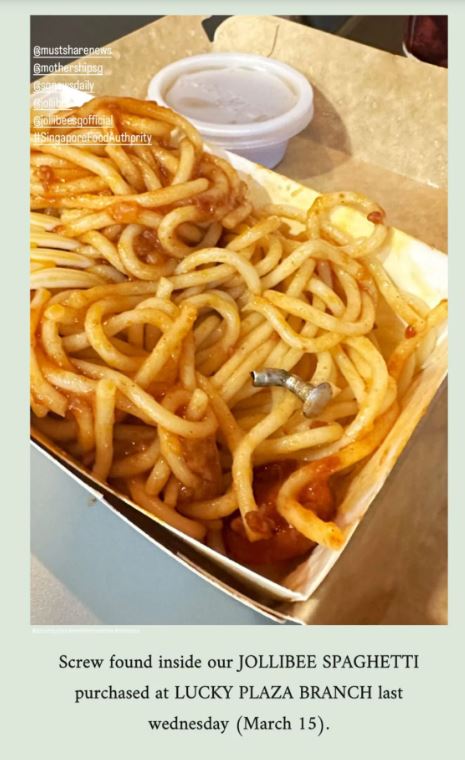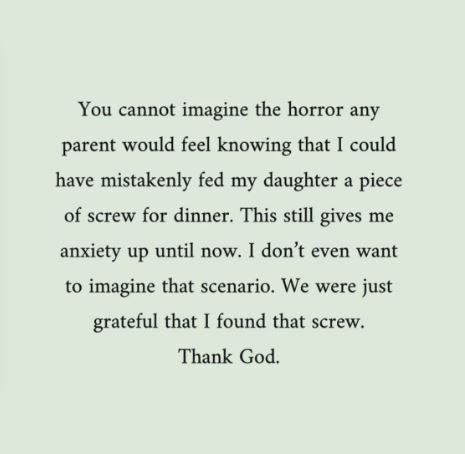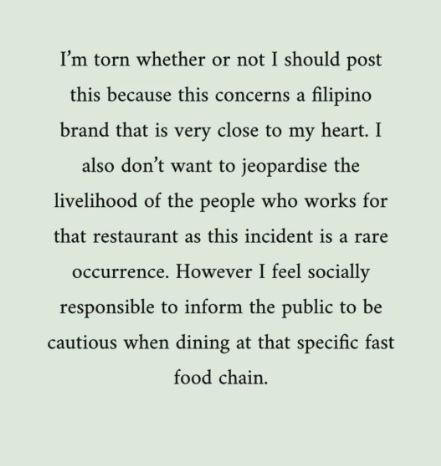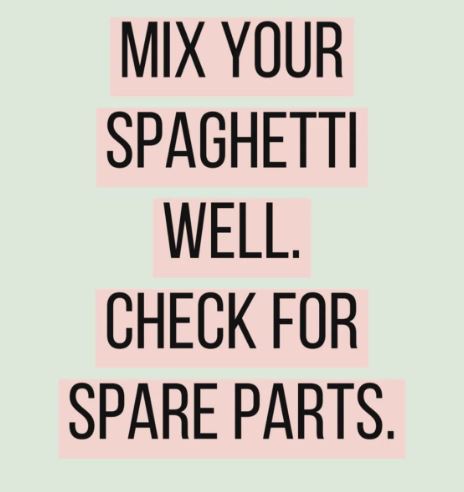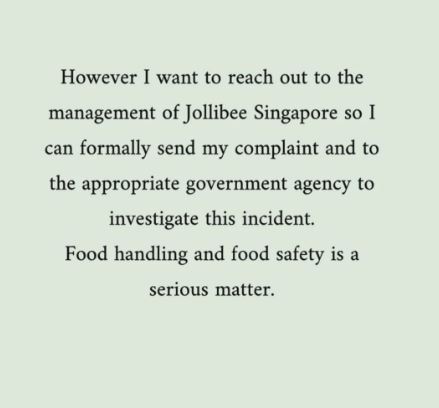 Source: Instagram