Facebook user Yvonne Soh shared how she had purchased a box of frozen dumplings from a stall in Chinatown, which has a 1-star Michelin rating.
She said that when she boiled the dumplings for lunch, she allegedly found rubber bands inside one of the dumpling pieces.
She warned others to check the dumplings by opening them before eating, because "we don't know what additional ingredients may be inside".
She also emphasized on how she will not be patronising from that stall again, despite it's 1-star Michelin rating.
Here is what she said
Last week, I bought a box of frozen dumplings from a stall in Chinatown Complex Food Centre.
During lunch today, I boiled the dumplings and found rubber bands in one of them.
It is important to remember to open the dumplings before eating them because we don't know what additional ingredients may be inside.
I will not be buying from this stall again, even though it has a Michelin one-star rating.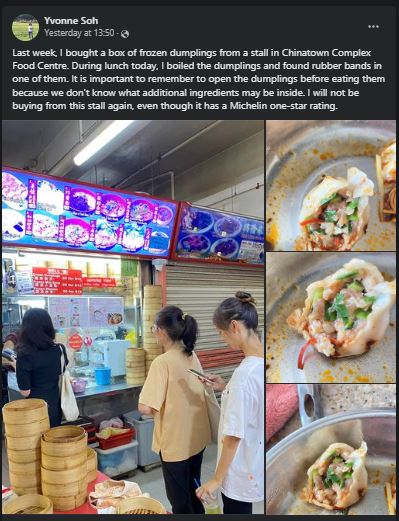 Other cases of foreign objects in foods
Roach in Wantan Mee
Facebook user Jeffrey Linus Lee shared how his parents had patronised a Wantan Mee stall at Koufu located at Toa Payoh Central on 26 April at about 8.39pm.
He said that his mother found a "foreign object" in her noodles and after taking a closer look at it, realised that it was a cockroach.
She then confronted the hawker about her find and the hawker then in turn accused her of allegedly putting the cockroach there herself.
Lee said that his mother asked the hawker why would she put a cockroach in her own food and the hawker then allegedly threatened and shouted at her to lodge a complaint.
Lee also said that the hawker accused his mother of planting the roach in her food to get a refund.
Roach in roasted pork rice
A netizen shared how he bought a packets of roasted pork rice from a coffeeshop and found a live cockroach crawling inside his food.
The netizen, Lester Philip, shared how he visited the GAGA Roasted Delights stall on 6 May at a coffeeshop located at Block 444 Pasir Ris Avenue 6.
He bought a packet chicken and roasted pork rice with an additional braised egg and upon reaching home, opened his food packet ready to tuck in.
Howeber, he noticed something brown on top of his meat and realised that it was a small cockroach crawling across the food and standing on top of one of the roasted pork.
Lester then recorded the cockroach with his phone before closing the lid of the rice to prevent the cockroach from escaping.
He then went back to the staff where he bought his food from and told them about what happened, and the surprised staff then offered him a refund.