A netizen posted on Facebook that she reported a Police case against a handphone accessories seller after she paid $30 for a handphone screen protector.
She described the shop owner as rude and even blocked the customer's call.
Here is what she said:
Police reported done for this seller, I did a nano phone flim on Monday and badly scratched on Wednesday without any external force.
Will go to CASE to launch a complaint. Let's create awareness and prevent more people Kanna cheated by them again. The boss is very rude and even blocks consumer's call.
Please be cautious with your language use also. Now I already get comments about who suffered also and evidence. Thanks for your guys' willingness to voice out together also, It is not a small nano screen or protector
But the lawless/black-hearted unethical business behind it, We should do our part to protect the moral society of Singapore. And make our living environment better. $30 X 5mil is how much?
Let's do something for the Social Contribution. Creating awareness is one way also.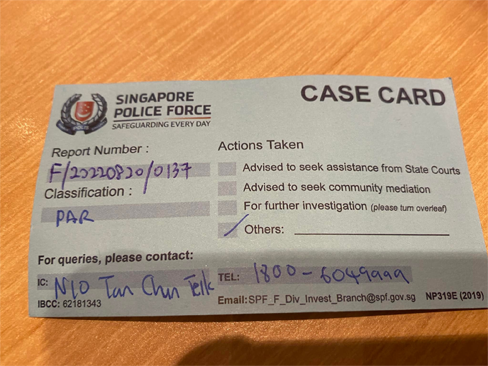 Here are what netizens think:
I did a screen protector which cost $20 and they said can go back to replace new one if have scratches. But the person in charge denied making such a promise. Dishonest! By the way this poor quality protector is too soft and will easily have scratches and lines on it.
They say up to 6months or a year. My kid accidentally drop my s10 and got crack at the left bottom. I wish i can take photo to show you. Might as well do tampered glass. $40 gone, lesson learn. No need report lah, just warned others.
I sold my phone to a phone shop. They said got scratches and the nano coating I used has no protection at all. Don't waste money on this scam.
I got cheated before also. Jus collected my hp from M1 westmall, outside M1 got this type of shop. They will tap tap an old hp with screwdriver and ask you to do the coating. Not saying it doesn't work, against scratches all that is OK, but not when u drop your hp. I know it works on vehicles n windows, but not when u have had an accident, aka drop your hp…. The reason why I never report, is the cost is only 10. Dun wanna waste my time. I believe most people also like me